Cosabella is not just one of our customer favorites, they are responsible for all of my favorite everyday bras and lingerie. I wear one of their bralettes every single day. Their soft lace is so comfortable and the design is so cute that its perfect to show off under the off-the-shoulder design of my shirts. All of Cosabella's products are made with handcrafted Italian lace, making their products excellent quality. I have actually had ladies tell me that they've had Cosabella bras last twenty years. No rips, no tears, they only had to take proper care of it and it will last a lifetime. I have been wearing them for over three years now and every single one of them are still in perfect condition.
This pullover racerback style bralette is one of our newest colors from Cosabella. This bralette is made in XL sizes but unlike most bralettes its made with an elastic band and lined with powermesh. A lot of women think that support from bras comes from the cups, but really it's the band that gives you the most support. As long as your band is supporting the weight of your girls, you shouldn't feel any discomfort from your bra. Since Cosabella makes their bralettes with a tight band and high quality lace and mesh you will not have issues with falling out of these bralettes. 
This adorable bralette from Cosabella is perfect for any occasion. Made with powermesh and an elastic band like the one above, this bralette will support you all day and night. This bralette is made with a sexy plunging v-neck design, and some beautiful lace detailing under the band for an elegant touch. The matching extended thong is made from soft Italian lace and is designed to have a soft, low rise fit.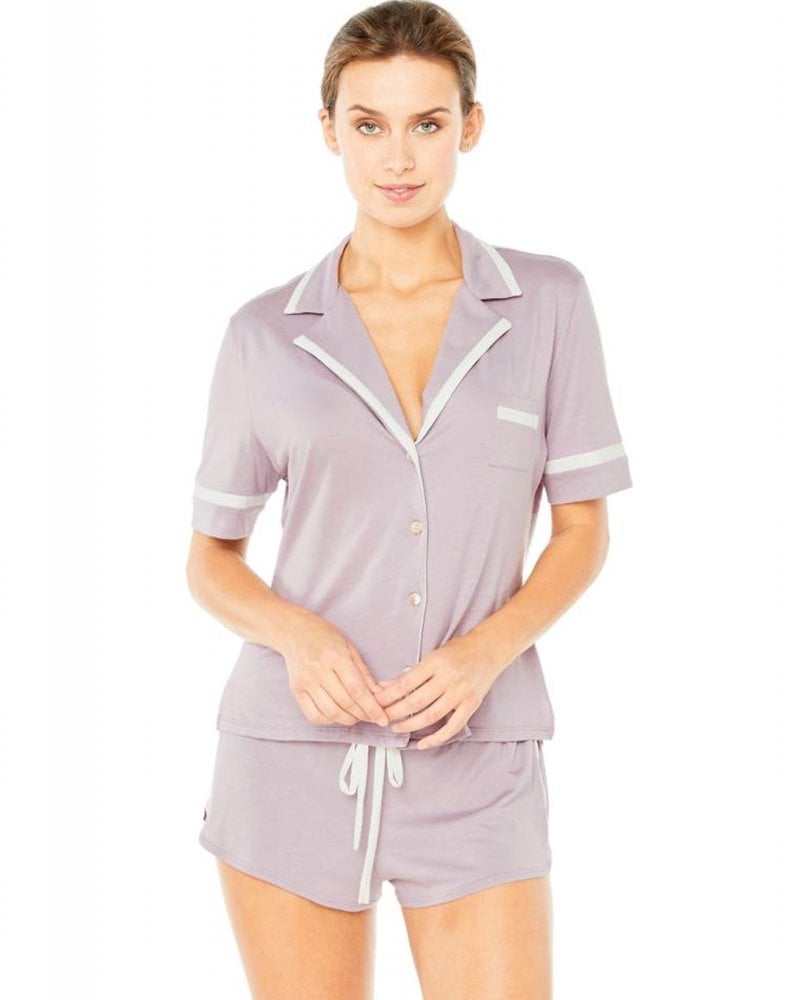 Cosabella pajamas are made of the softest fabric on the planet, a good nights sleep is guaranteed in this comfy set. Made with pima cotton this set was designed specifically for women's comfort. This style is modeled after the classic men's button down pajamas but adds a soft feminine touch just for ladies. This set features a pull over short with drawstring closure, and a button down short sleeve top with matching trim. 
So far I have heard nothing but good things about this bralette. Many women have told me that they like the idea of bralettes, but because of how they are built, they can never find one that really fits. Cosabella apparently got the same response, because they just came out with the curvy bralette. This bralette is specifically designed for ladies with bigger busts and small rib cages. A lot of the time bra companies assume that if you need large cups than you also need a large band size. Sometimes though, this isn't the case. If you've been having this issue, you need to try this bralette out and let me know what you think!
Cosabella's best selling Never Say Never Bralette also comes in a lightly padded design for the women who need a little extra coverage. Finding bralettes with padding is no easy feat, but this bralette is sexy, supportive, and underwire free! Scalloped lace lines the bottom of this cute bralette for an adorable touch, and as usual an elastic band is included for support. Make sure you grab the extra matching Minikini to complete your new lacy look.
Has a soon to be mom in your life been sleeping in her hubby's shirts because hers don't fit her belly anymore? Let her know about this super soft pajama set from Cosabella. This set is made from soft pima cotton and comes with three different pieces. The drawstring pajama pants are adjustable and perfect for all terms of pregnancy and change in size. The robe is warm, soft, comfy, and perfect for nights in or roaming around the house. The camisole is actually designed with clip-on, clip-off straps that are perfect for nursing. This set comes in several different colors, so click the image to find your favorite.
Cosabella Sweet Treats Stars Bralette and Matching Panty
Geometric designs are one of the hottest trends right now. This sexy set from Cosabella is one of our customer favorites for its on trend designs and of course its soft fabric. This bralette is made with plunging V-neck triangle cups, and light lining for support. The semi-sheer cups and lace band have a stary overlay that would go with any outfit. Make sure to grab the matching star cheeky cut panty.
This push-up bra by Cosabella is another one of our customer favorites. If you like padding and a whole lot of extra lift, this is the bra for you! Made with lightly padded cups, this bra includes removable padded "cookies" so you can decide how much of a lift you want. Made with a front closure this bra is super easy to get on and off. Adjustable straps, and a gorgeous overlay also make this bra a favorite in Hollywood. This bra comes in several different colors, so click the image to see our full selection.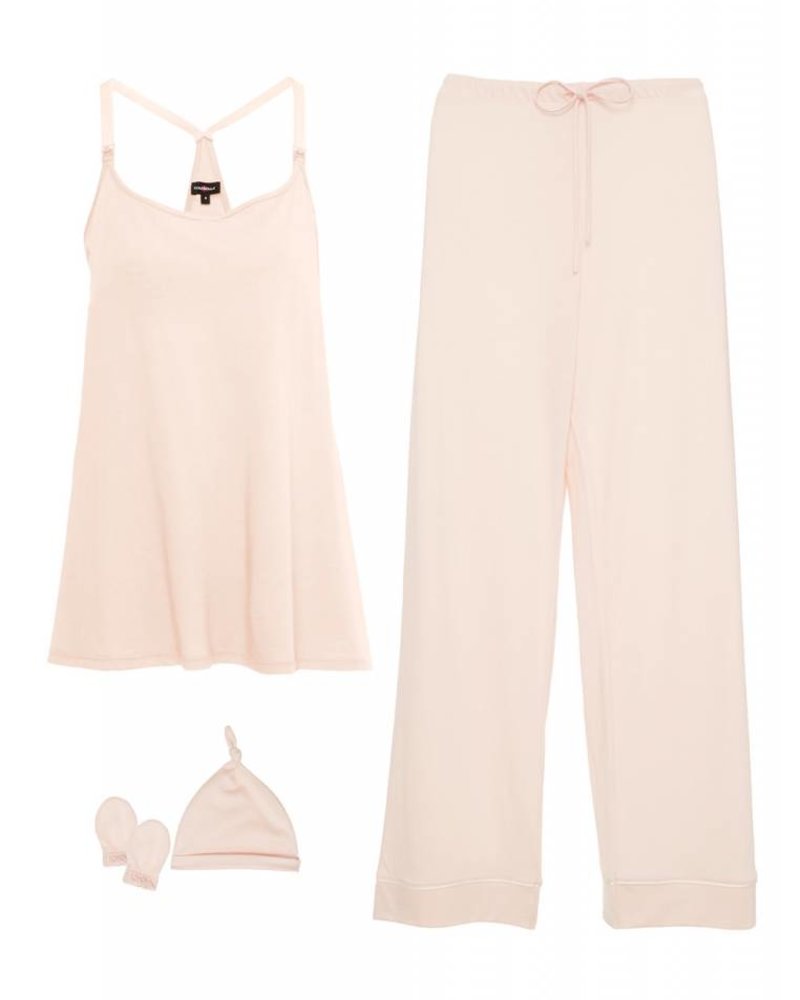 This adorable pajama set from Cosabella is the perfect gift for any soon-to-be mom. Need a good birthday, Christmas, or baby shower gift? This set is just what you've been looking for. This set includes drawstring pajama pants and a cami made with nursing clips for the expecting mom. Also included are adorable matching mittens and a small hat for the new little one! All pieces are made with soft pima cotton for extra comfort. Get a gift that both mom and baby will love! 
I hope you've enjoyed a look at some of my favorite products from Cosabella, this list doesn't even show half of what this amazing brand has to offer. Cosabella has many more bralettes, maternity bras, robes, pajamas, and much more. Check out the store's full Cosabella selection here. If you aren't sure what size you need for any of their products schedule a bra fitting appointment with me. I'll make sure that your in the right size and comfy all day in whatever pieces you need. If you already know your size and would like to come in and shop the store, schedule a personal shopping appointment with me, just let me know what you're looking for and I'll give you lots of beautiful options. As always if you have any questions you can call 501-450-4886 and if you have any comments leave them below! 
Which of these Cosabella products do you like best?
Let me know in the comments, I love hearing from you! 
FOLLOW US ON INSTAGRAM @angiedavislingerie
FOLLOW US ON SNAPCHAT @Angiedavisphoto
 ANGIE DAVIS is a lingerie store & boudoir studio in Conway, Arkansas. Shop our website or come into the store and let us help you find the perfect piece of lingerie, your new favorite shoes, some gorgeous jewelry or the perfect fitting bra. We carry bras up to O, bralettes up to HH, nursing bras, lingerie up to 6X & much more! We also offer bridal registry & lingerie parties!
LADIES! JOIN OUR LADIES GROUP FOR MORE INFO!
GUYS! JOIN OUR MEN'S GROUP FOR MORE INFO! 
1131 Front St. Conway, AR 72032 - 501-450-4886 - [email protected]