I always suggest that ladies try on all bras and lingerie before they purchase them if at all possible. What if it isn't possible though? What if your favorite bra and lingerie store is fifteen hours away and you can't make a road trip every time you need a new teddy?! Recently I've run into this problem as my boyfriend and I have decided to move to South Carolina! Rest assured, even though I'm several states away now, I'm going to continue writing these amazing blogs! I'll just have to order my new favorite pretties off of our website, or call the store when I absolutely have to have one of our new body chains. This will be the first time I have ever ordered lingerie online though. I always try on the piece first to make sure everything fits like it's supposed to. I could find a more local store… but how could I justify getting lingerie from any other store when our store is THE BEST?!
So for anyone else who is too far away to visit our store, and for the ladies who just like to order our products online, let me suggest a few tips for shopping online to make your experience a pleasant one.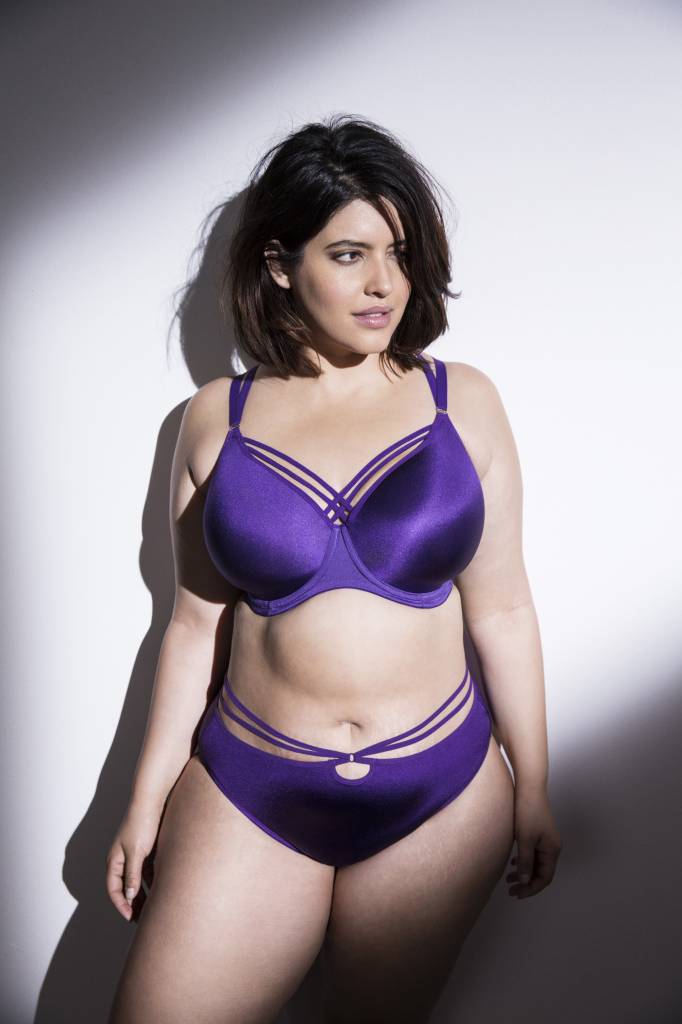 1. Know What Size You Are
What is your bra size? Don't know? Normally I would tell you to get professionally fitted, but if you HAVE to do it yourself make sure you do it correctly. To measure yourself take two measurements with a measuring tape. First measure yourself over the fullest part of your breasts, not too tight. You want to make sure you're comfortable. Secondly, you need to measure yourself right below your bust. This will give you your band measurement. To calculate your cup letter, imagine every letter of the alphabet has a number. AA = O, A=1, B=2, and so on. Then subtract your bust measurement from your band measurement. For example if your bust measurement was 37 inches and your band was 34 you would subtract, 37-34 = 3. Now take that number and apply it to the alphabet. C=3 so you would be a 34C. I know, I hate math too, which is one of the reasons why everyone should be professionally fitted. Let the professionals handle all this silly math. They can tell you what size you need this sexy Elomi Bijou Flirt Bra in.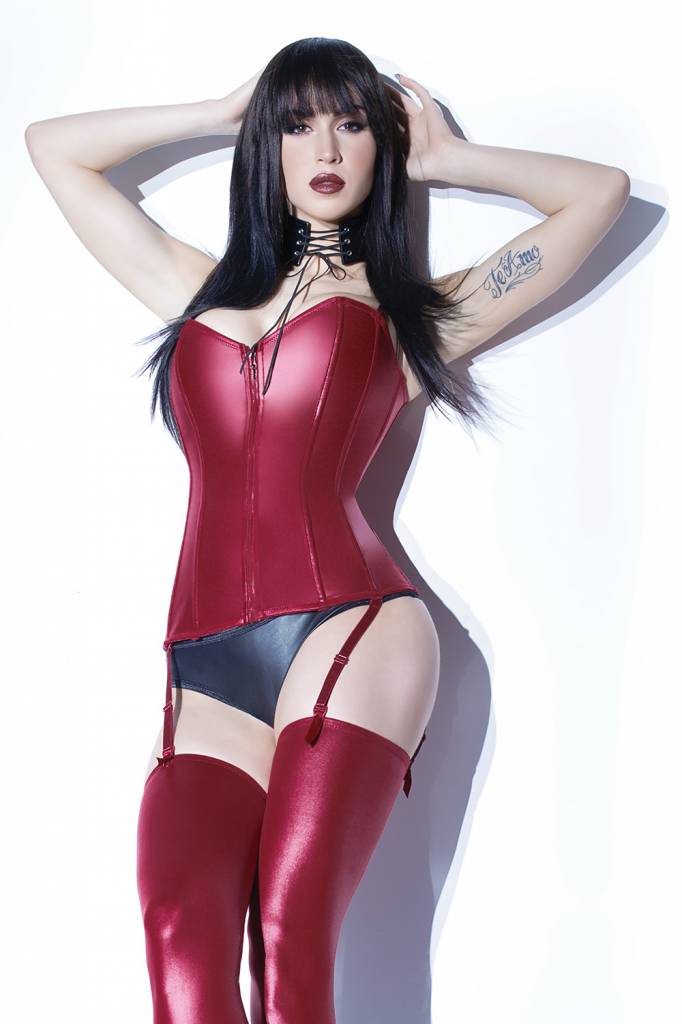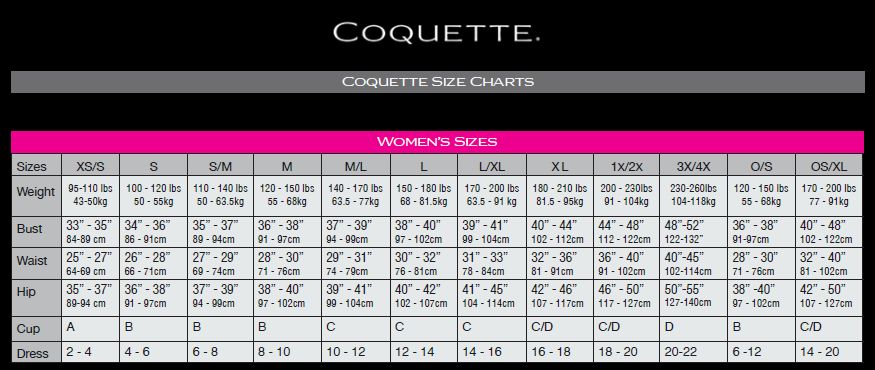 2. Check the Size Chart
This is super important, especially for ordering bras or fitted items like corsets. If the item provider is based out of the country the sizes may vary. Checking the size chart will let you know if you need to size up or down. The chart will also have measurements so you will be able to tell what size you need just by the measurements you took with step one. That way you can be sure that your brand NEW Coquette Forever Matte Corset fits when it arrives.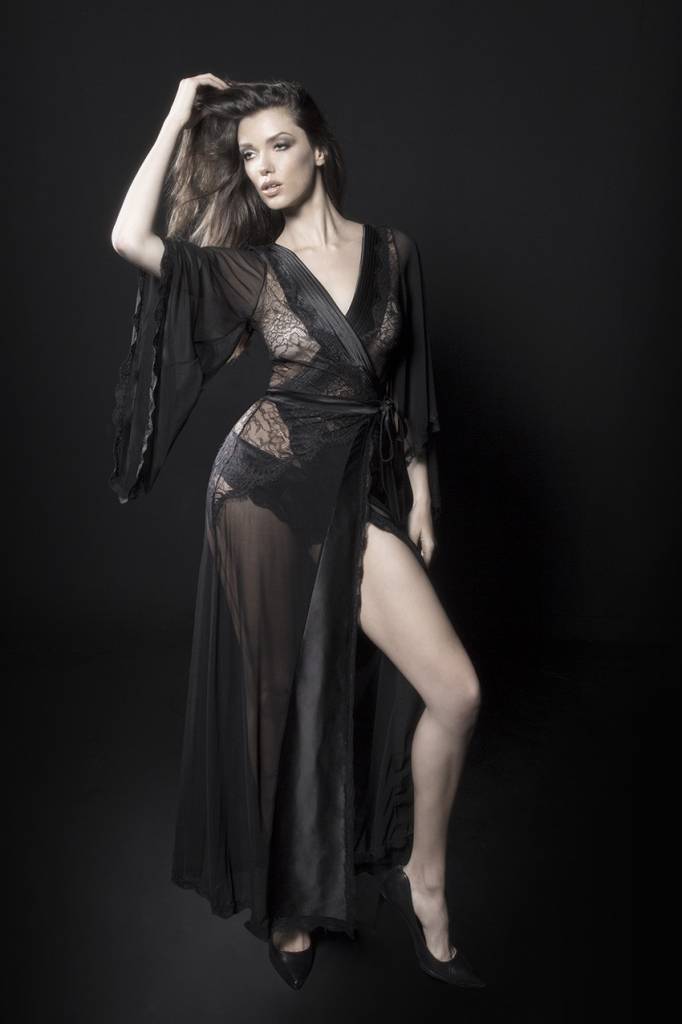 3. Know the Return Policy
In our store we do our best to accommodate you if you need to return your item. We accept returned items for store credit, exchange, or refund. We do not accept returned items that have been worn, laundered, have body glitter, lotion or deodorant on them. If you need to return your item please do so within thirty days of your purchase. In the case of damaged packages we recommend you contact us as soon as possible so we can correct any problems. If you need to return any items, send us an email or call our store. We'll return the favor once we receive your returned item by sending you an email to let you know we received it. We want to make sure you're in love with all of our items like our NEW Oh La La Cheri Natalie Satin Robe. To read our full return policy click here.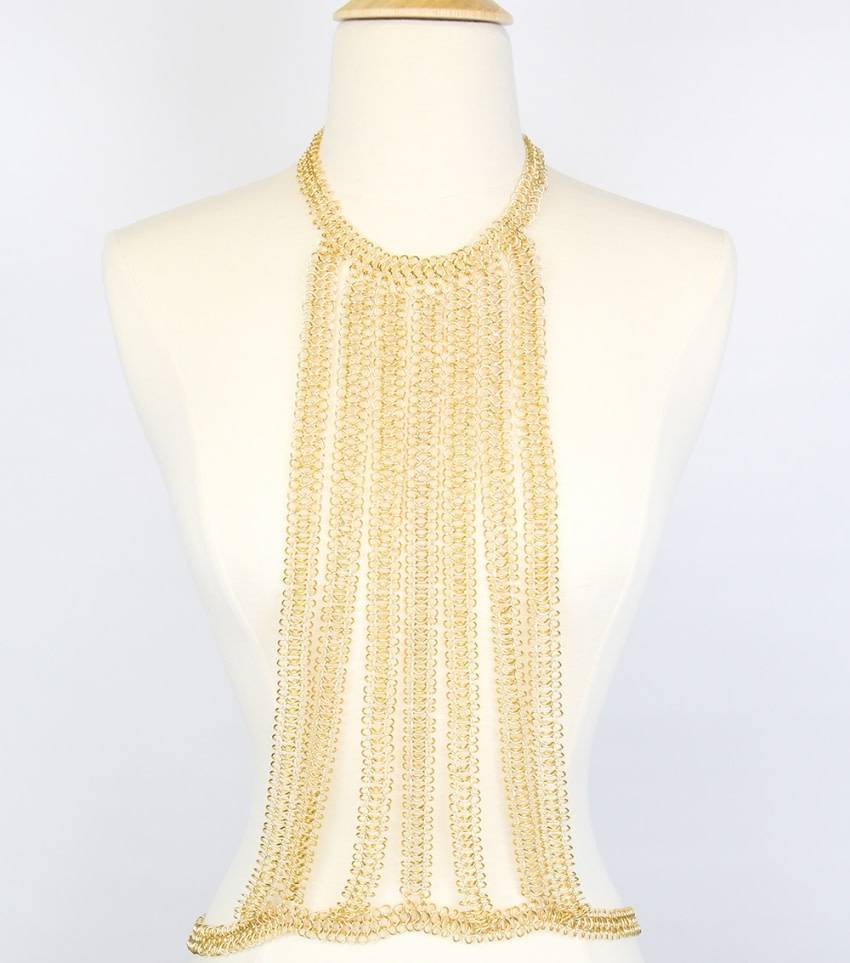 4. Read the Product Description
Most of the time the products are fairly straight forward regarding what they are, and what they're made of. This is extremely important if you're sensitive to any fabrics, or are allergic to any metals. You would need to make sure you order our NEW Armor Links Body Chain in a metal you aren't sensitive to (either silver or gold). Some of the products we sell incorporate metal accents like gems or hoops. If anything like this irritates your skin you'll want to be informed of this before you purchase it. The product descriptions will also give a detailed analysis of what the product is supposed to be doing for you. How it will support you, how it's supposed to be used, and so on.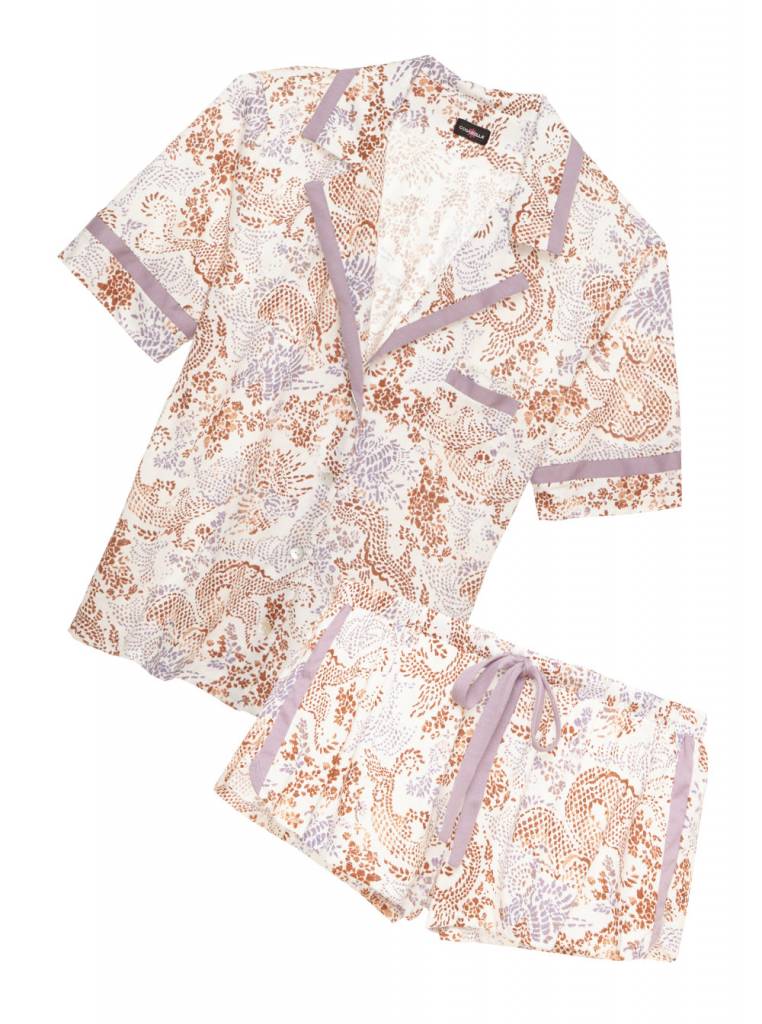 5. Subscribe to our newsletter
Love to order things online? Want to be the first to know about deals, specials, and NEW items like these super cute Cosabella Short Sleeve Top & Boxer PJ set? Subscribe to our newsletter by going to our website, scroll to the bottom and enter in your email address. We'll send you weekly announcements about new products and services. You can also follow us on Facebook, Instagram, Youtube, Pinterest, and Snapchat @Angiedavisphoto to see all of our newest products as soon as they hit the store!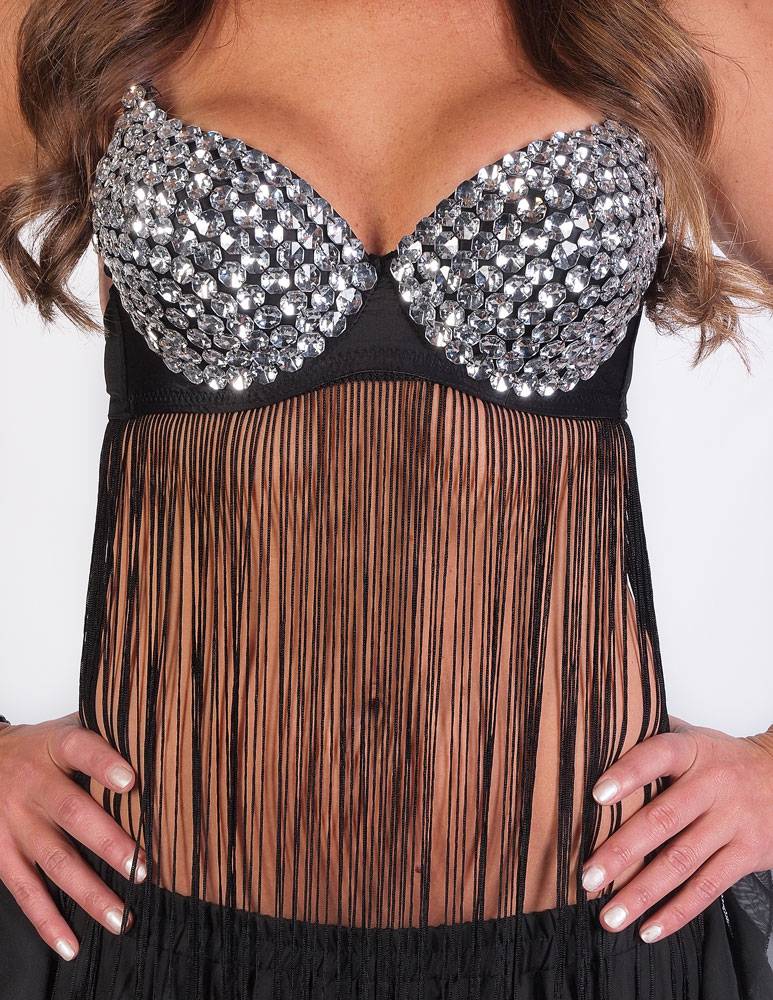 6. Try on the Item
Now that you've measured yourself, read the product description, subscribed to our newsletter and found what you hope will be your new favorite lingerie, TRY IT ON! First of all though, make sure your freshly showered. This is the best time to try on new merchandise as you won't have on makeup, deodorant, body lotion, glitter, or anything else that can stain the item. Our NEW Rhinestone Diva Bra can not be returned if there is a stain on it.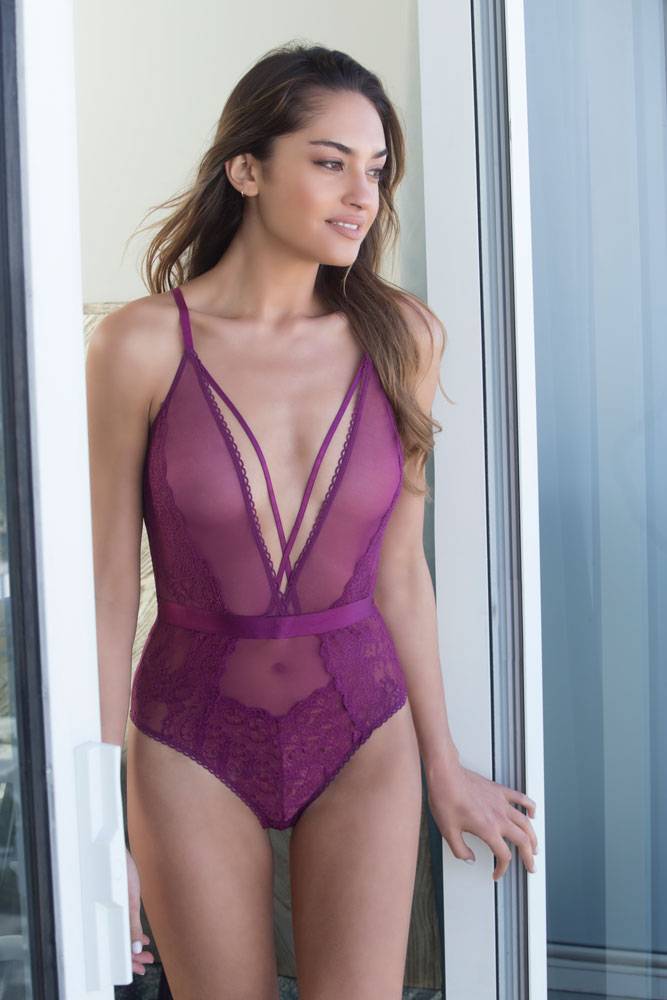 7. See if it Fits 
What do you think, did it fit?
No? That's alright, now that you've tried on the item without staining it you can simply put it back in it's original packaging. Contact the store as soon as possible to let them know that you would like to return it, and the reason for your return. One of our awesome associates will let you know what to do from there, depending on if you would like store credit, exchange or refund.

Yes? YAY! You have successfully found something online that you didn't try on that fit! You are a superstar with a highly developed super power! Please only use these powers for good, and enjoy your NEW Oh La La Cheri Vanessa Teddy! When you've decided you're going to keep a product don't rip the tags off. I know you're exited but, it would be awful to rip a hole in the beautiful teddy that you've just decided to keep. Carefully snip the tags off with scissors and be sure to read the care instructions to get the best life out of your products.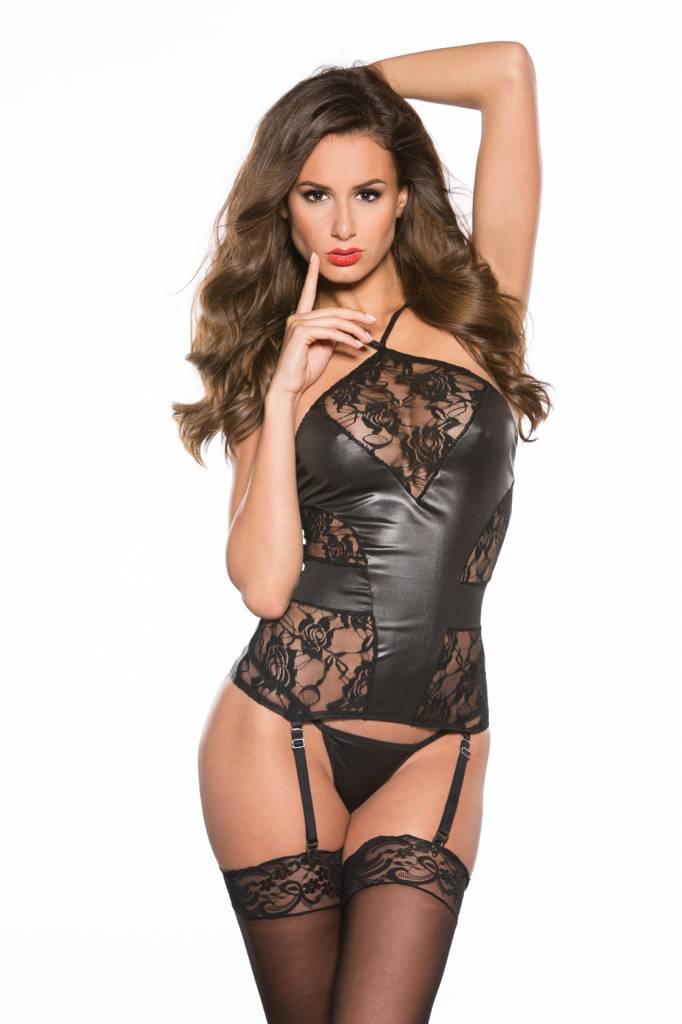 8. Don't get discouraged if it didn't work out
Getting things online can be difficult. There are a lot of factors that go into finding the perfect teddy, bra, or babydoll. If you aren't in love you can always return it. That being said, don't just go for thre thing you're "guaranteed" to love just because it's a safe bet everything will work out. Get out of your box and try something new like our Amelia Wet Look Bustier. Lingerie is an expression of yourself just like the clothes you wear everyday. If you find something you love, but aren't sure if you'll like it on, don't scroll past out of uncertainty. Just give it a shot! You can always return it if it didn't work out.
Again if you're close to our store and are able to get a professional fitting, GO GET ONE! They're free, painless, and help out a lot. If not you can always refer back to the above guide. I hope this helps anyone in the same situation as me. If you've already ordered online items from our store, we'd love to hear how they worked for you. Please comment with your experiences below!
Have you ordered any of our products online? How was your experience?
Let us know in the comments for a chance to win a $25 gift card!
Winner drawn monthly!
FOLLOW US ON INSTAGRAM @angiedavislingerie
FOLLOW US ON SNAPCHAT @Angiedavisphoto
 ANGIE DAVIS is a lingerie boutique & boudoir studio in Conway, Arkansas. Shop our website or come into the store and let us help you find the perfect piece of lingerie, your new favorite shoes, some gorgeous jewelry or the perfect fitting bra. We carry bras up to O, bralettes up to HH, nursing bras, lingerie up to 6X & much more! We also offer bridal registry & lingerie parties!
LADIES! JOIN OUR LADIES GROUP FOR MORE INFO!
GUYS! JOIN OUR MEN'S GROUP FOR MORE INFO! 
1131 Front St. Conway, AR 72032 - 501-450-4886 - [email protected]