Have you been searching for the perfect gift for your lady this Valentine's day? Does she not like flowers because they die? Does she enjoy the giant boxes of chocolate or does she shy away from all the unnecessary sugar? No matter what your lady is into, I can guarantee you that chocolates and flowers are no comparison to what she really wants for Valentine's Day: Lingerie!!! Every woman deserves soft sexy lingerie. Don't believe us? Check out the comments from real ladies on one of our most recent blog posts. Now I know what your thinking. That would be an amazing gift, but you have no idea how to buy lingerie, what her size is or what she would like. Don't worry. At ANGIE DAVIS this is what our staff is trained for. We will help you every step of the way!

We Might Already Have Her Size
If your lovely lady has shopped with us before we already have a record of what she's bought! Which means we can tell you exactly what color, style, and size your lady likes. From there we can help you select things that will actually fit her and that are similar to the style she already has. We can help you find this lovely Coquette Merlot Gown in her size (up to 4X)! If your lady hasn't already shopped with us, or if there's a chance her size has changed since her last visit, you have a few options. Before you come in peruse her lingerie drawer and write down her sizes. Make sure you check a few because there might be mediums in one thing and smalls in the other. Just make a note of what she has the most of. Click here for additional lingerie shopping tips concerning size, style ect.
If you would like to take it a step further stealing her bras is also an option. This December we had an adorable gentleman come in with a few of his wife's bras for us to look at! He's the first person to ever do this in our store, but we thought it was a great idea. This way we had her size, style and colors. We helped him select all of his wife's pieces and even wrapped them up for him. She later contacted us after Christmas to thank the ANGIE DAVIS team for helping her hubby pick out all her new favorite lingerie!  So if you don't know her size, stealing her lingerie is an option as well!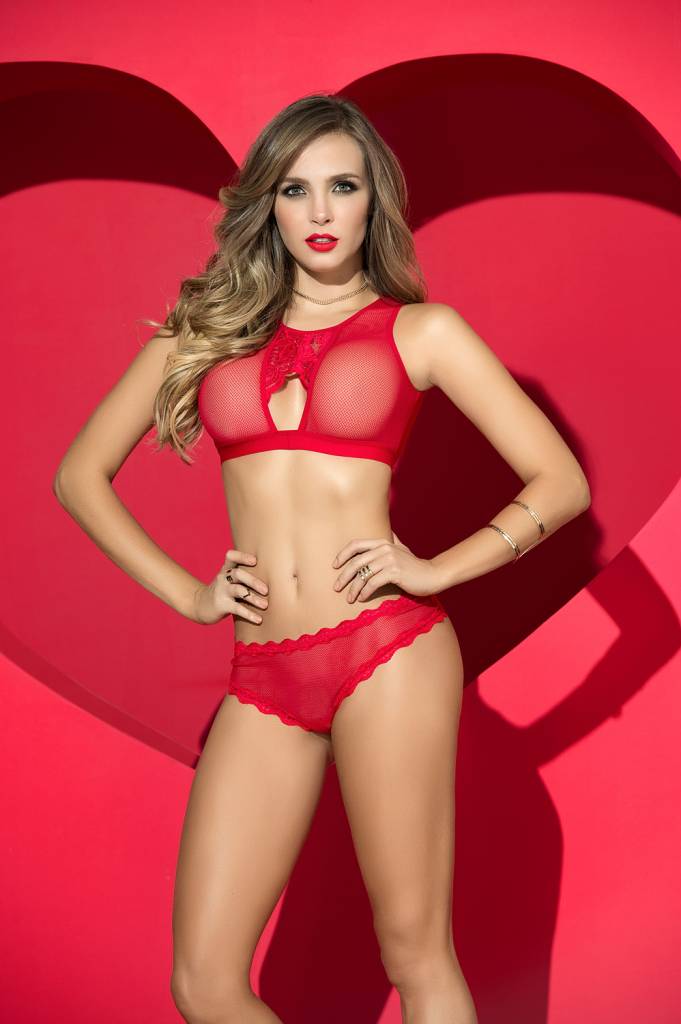 You Can Have Her Make a Registry
One of the easiest options for you, and the most fun option for her, is to have her make a registry.  With registries though, you do run the risk of her buying things she just can't live without like our Mapale Fire Red Bralette Set. However, creating a registry is a sure fire way to make sure you get her lingerie she will absolutely love. All you have to do is take her to our store. We will size her and help her select all of her lingerie. After she has chosen her favorites we will make a list of them for you. That way when you come in we can show you her favorites and you can choose yours! We'll even gift wrap it for FREE! This option ensures that she will receive a gift that fits her perfectly and that you like as well. She gets to shop, your life is made easier, it's a win win! However, if your thinking that you want your Valentine's Day gift to be a complete surprise, we've also got you covered.
We're Pretty Great at What We Do
I don't like to brag but… we're pretty awesome. If you want your Valentine's day gift to be a complete surprise we can absolutely help you pick out a gift that she will love. Like our Coquette Eyelash Lace Babydoll.  We're women, we know what women like. Not to mention all we do everyday is help women select lingerie, research lingerie, order lingerie and photograph lingerie. We know lingerie and we will help you find the perfect outfits for your lady. Quite a few men came in this December to buy gifts for their ladies and to date no returns have been made on those items! We've even received a few positive reviews and emails thanking us for our help. So come in and let us help you! We don't bite!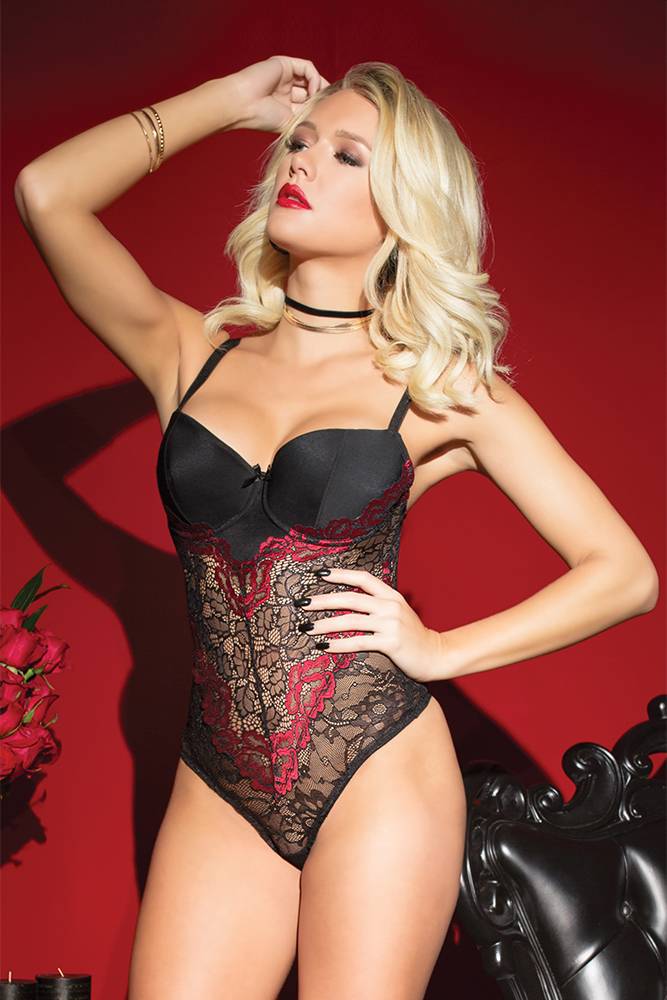 We Might Help But You'll Be the Hero
Women tend to put themselves last on their itineraries. Those independent strong ladies have 5,000 things to do. I guarantee you relaxing and buying sexy lingerie is not first on that list. Sure she might buy functional bras and panties, but I'm willing to bet sexy lingerie hasn't been on the list for a while. Maybe ever. Putting her first will definitely make her day. Especially if you get her something fabulous like our Coquette Red Romance Teddy. We also have an assortment of small gifts like body scrubs, lotions, and soaps. She will love that you got something just for her. Be a hero this Valentine's Day! Get your lady something sexy and draw her a bubble bath!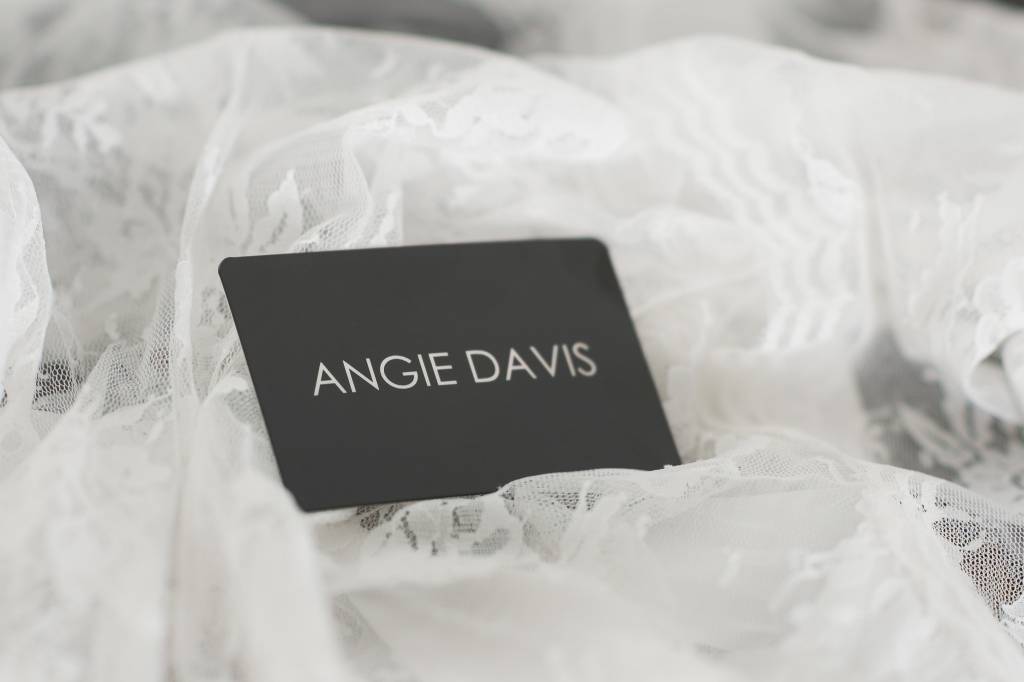 You Can Always Get Her a Gift Card
If you just can't decide between all of our awesome products, or want your lady to be able to select her own present, gift cards are a great options as well. Gift cards are small thoughtful gifts that allow your lady to get herself something she will love. Whatever you decide to do for Valentine's day we are happy to help. Rather you would like to steal her bras, have her make a registry, or get her a gift card we will be there every step of the way. Have a great Valentine's Day this year. Celebrate the way you should, with gorgeous lingerie!
Which are you going to do for your lady this Valentine's Day?
Let us know in the comments for a chance to win a $25 gift card! 
Winner drawn monthly. 
FOLLOW US ON INSTAGRAM @angiedavislingerie
FOLLOW US ON SNAPCHAT @Angiedavisphoto
 ANGIE DAVIS is a lingerie boutique & boudoir studio in Conway, Arkansas. Shop our website or come into the store and let us help you find the perfect piece of lingerie, your new favorite shoes, some gorgeous jewelry or the perfect fitting bra. We carry bras up to O, bralettes up to HH, nursing bras, lingerie up to 6X & much more! We also offer bridal registry & lingerie parties!
LADIES! JOIN OUR LADIES GROUP FOR MORE INFO!
GUYS! JOIN OUR MEN'S GROUP FOR MORE INFO! 
1131 Front St. Conway, AR 72032 - 501-450-4886 - [email protected]