Hey everyone! We are so excited to share with you some of our new products and some things we've brought back in stock because they were sold out! There is something here for everyone, and we'd love to help you find just what you're looking for. Come in and shop or shop our online store ANGIEDAVISBoudoir.com. With our world wide shipping you can order from anywhere in the world without having to walk in the store. This lingerie makes great gifts or a great treat for yourself. Speaking of gifts, if you aren't exactly sure what to get our gift cards make the perfect gift for anyone! We hope you enjoy!
Brand new! Our Off the Shoulder Babydoll is one hot commodity! This sexy lingerie is completely see through for a super sexy look. Lace sleeves hug your shoulders and give this outfit a fancy addition. You can dress this lingerie up with stockings and jewelry or wear it by itself and look just as extravagant! We carry this sexy, black babydoll in sizes small up to 3X!
BACK IN STOCK! Sometimes simplicity is sexy too. This sheer shirt is perfect with some sexy lingerie underneath and it is also perfect by itself with nothing underneath. Either way this shirt will make you feel super gorgeous! Its is also very cozy to sleep in. Make bed time sexy again with this classic, white see through shirt. We have sizes from small to 3X!
BRAND NEW! Our Blooming Love Bra and Panty Set is absolutely beautiful & part of our new Blooming Love collection. Made with see through lace and decorative flowers you will certainly feel like a delicate flower every time you wear it. This outfit also feels nice to wear underneath your everyday outfits too since it is soft, sexy, and beautiful. Check out all our Blooming Love items. You will love them! We carry this lovely outfit in sizes small up to 3X!
BACK IN STOCK! Okay, our Batwing Robes are super amazing! They are so soft, but also sexy. The robe cuts off at your upper thigh, showing off those sexy legs. The sleeves have charming, decorative lace to add to the beauty of this robe. The material flows and dances around your body as you move, and the silk strokes your skin giving you the ultimate comfort. You'll love this comfy, sexy robe! Actually, you will probably love ALL of our robes! We carry sizes small up to 3X!
BRAND NEW! Here is another one of newest Blooming Love items! This teddy is very alluring and features see through lace with bright blue flowers. This piece hugs to your body and celebrates your curves. A deep v cut enhances and emphasizes your bust. You tie the top of the teddy with two ribbons making it adjustable to any figure. So if you have a short or a long torso it will still fit perfect. This beauty comes in sizes small up to XL.
BACK IN STOCK! You can not go wrong with lace! It is sexy and elegant and our Black Lace Babydoll is covered in it! It clings to your body, covering you in a beautiful decorative lace. This babydoll also gives support with a padded bra with underwire. All lace everything is the way to go! We carry this in sizes small to 3X!
BRAND NEW! Our new Blooming Love Babydoll is absolutely precious! The lace borders the bottom of this loosely flowing babydoll. The bra portion of this babydoll fits nicely to the body and is also made with this lovely lace. There's a hint of sexy with this elegant look, with straps that conform to the figure bringing attention to the upper portion of the body. Everything about this lingerie flows together and creates a rhythm of fabric. We carry sizes small up to 3X!
BACK IN STOCK! Sexy, see through, soft mesh is what our very popular Blue Sheer Halter Babydoll is all about! This is a beautiful babydoll, and a customer favorite! It is very free flowing, and the bra comes with a layer of padding for perfect support. What makes this babydoll so unique is the way the mesh continues up to your collar bones and connects to create a necklace like feature with the material. There is even a silver loop that hold it together with two beautiful rhinestones to add to the beauty of this lingerie. This babydoll comes in sizes small up to 3X!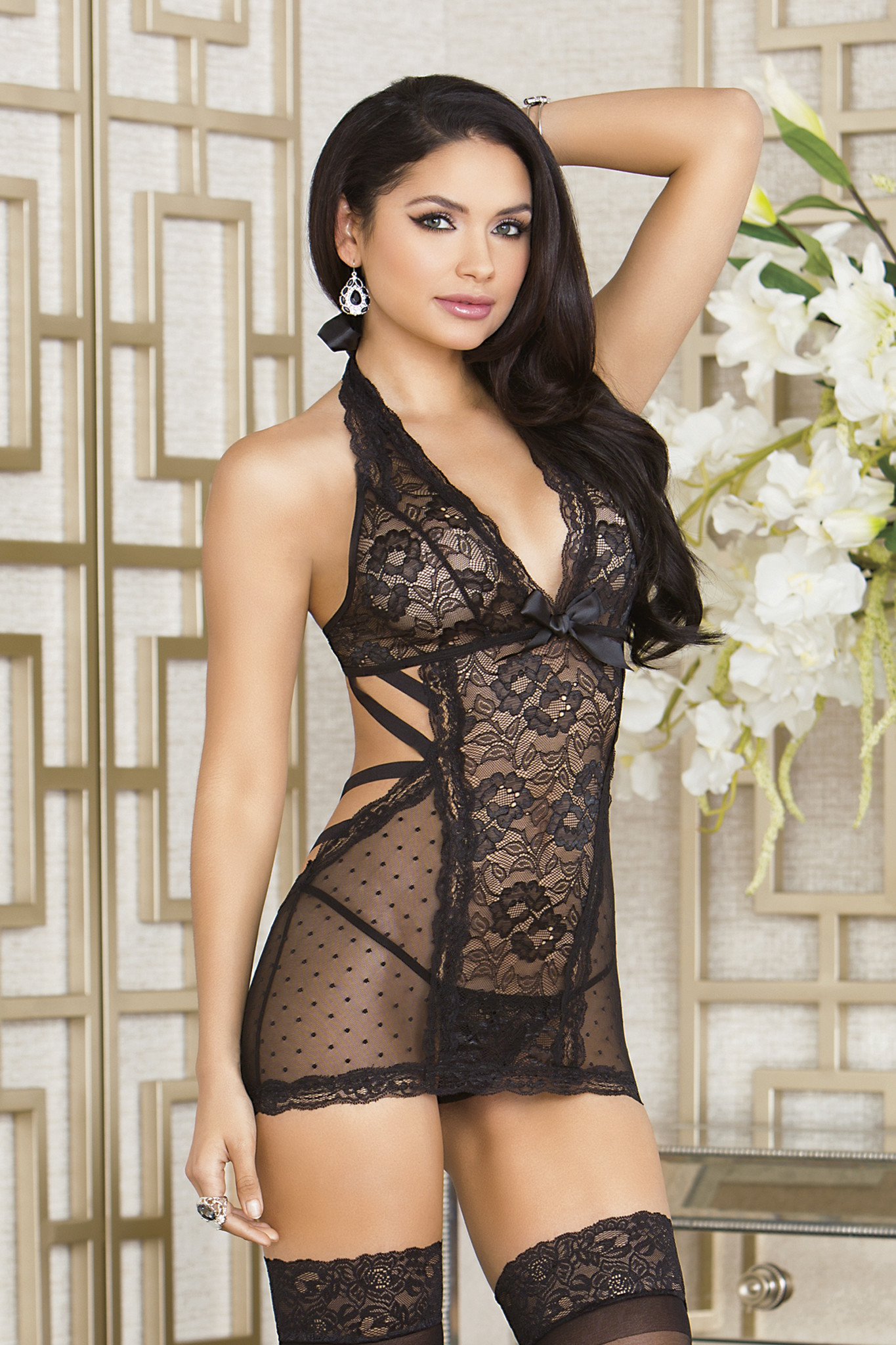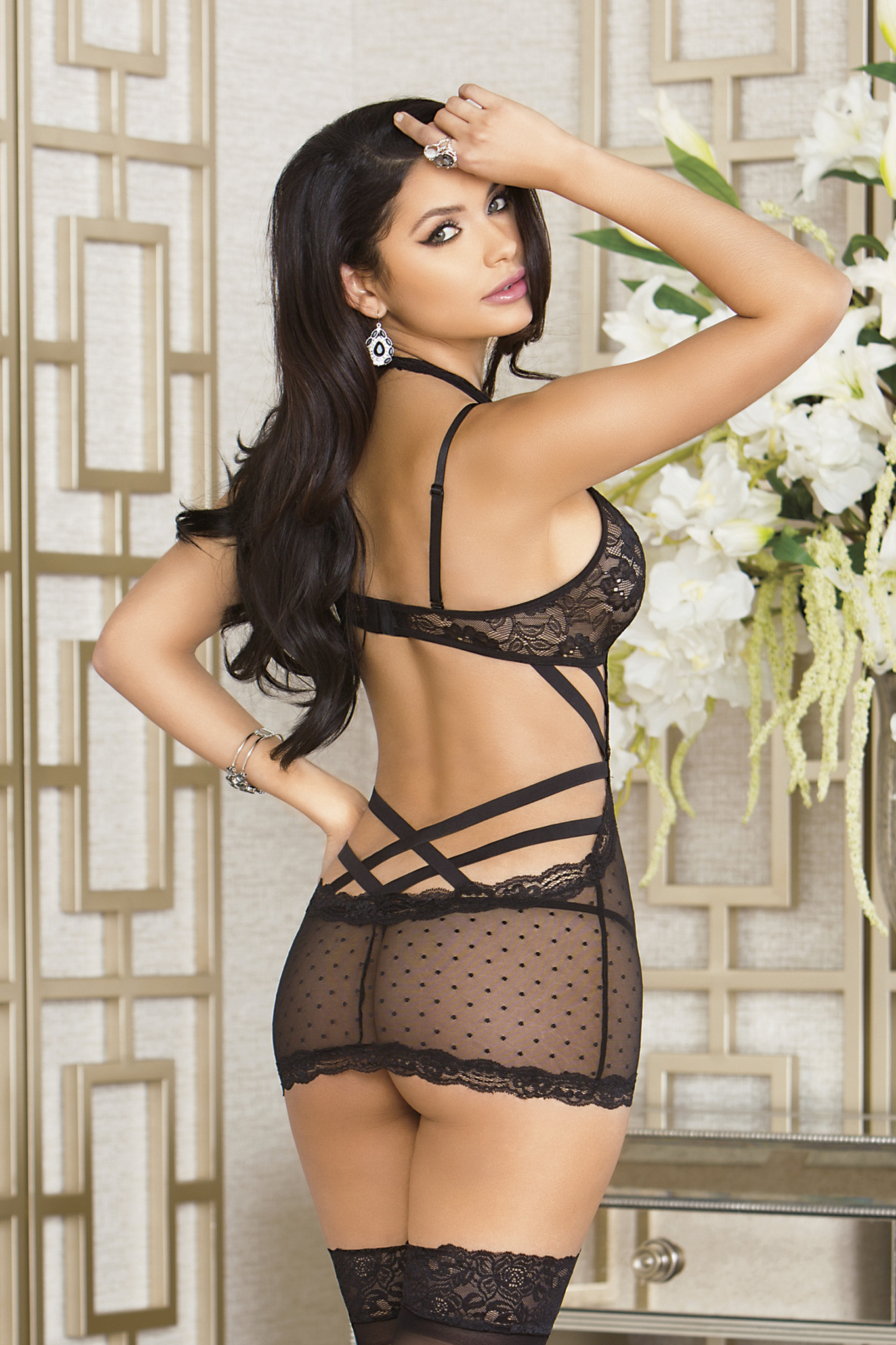 BACK IN STOCK! A popular lace and mesh combo, our Lace Haler Chemise Babydoll is all the rage! The lace and mesh can expand and retract easily making them surround the body like it's painted on. The straps help enhance the curves of the body and also help this sexy chemise fit your figure perfectly. The chemise ties at the base of your neck making it easy to adjust to your breast size and length of your torso. Ultimately this chemise will fit like a glove. We carry this in sizes small to XL.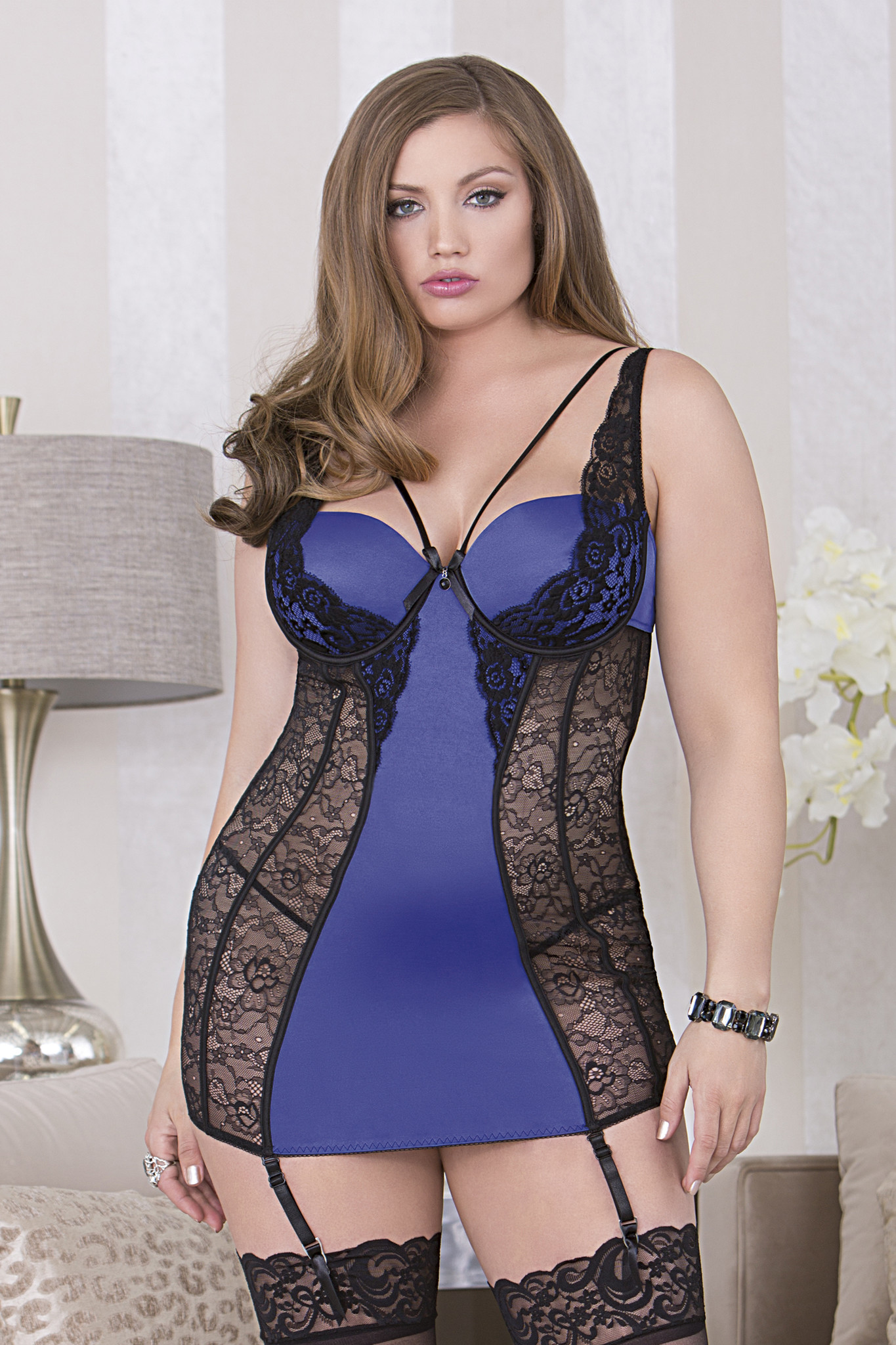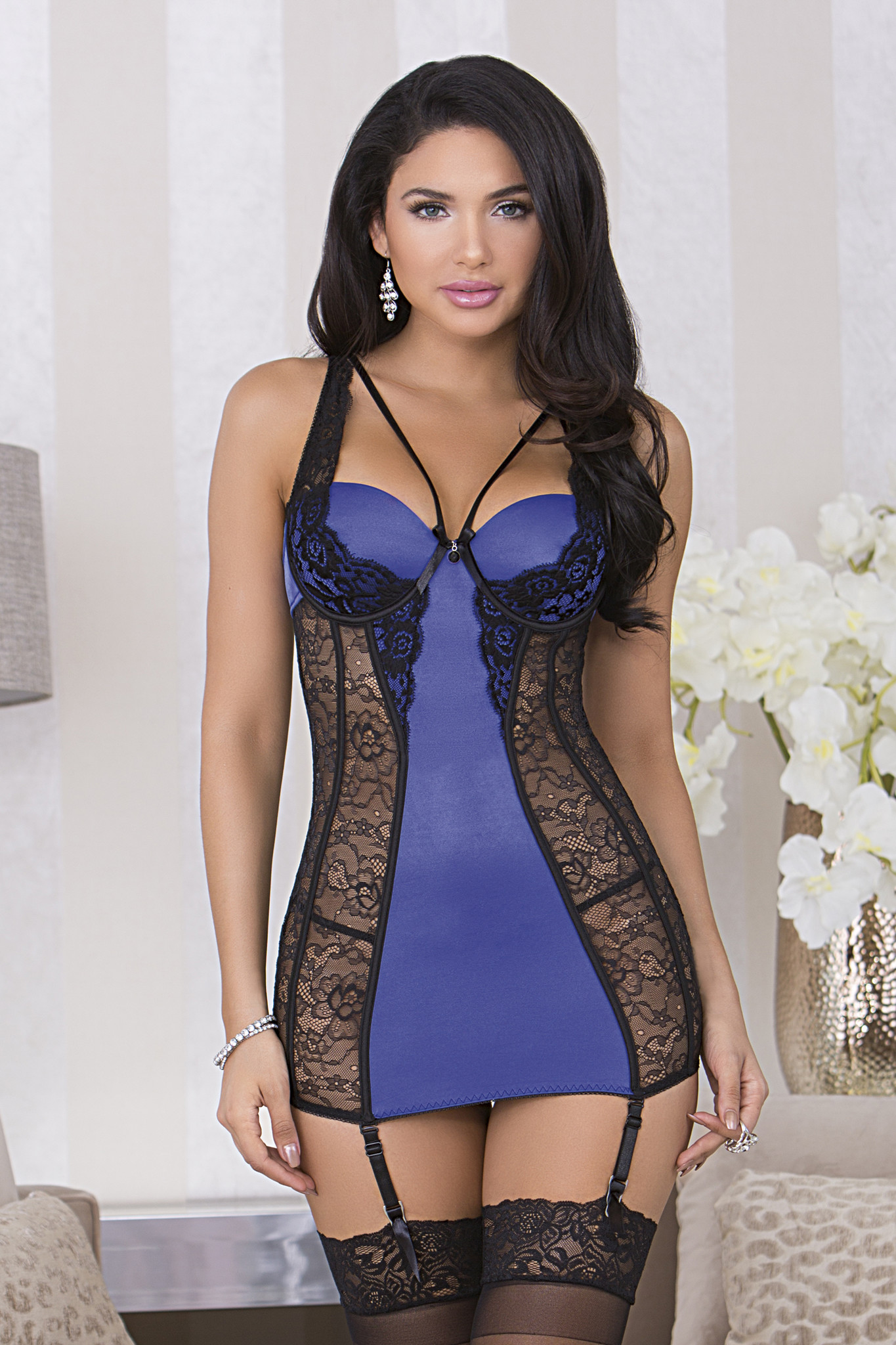 BACK IN STOCK! This babydoll beautifully contrast the cobalt blue fabric with extravagant black lace. This creates a slimming effect while lace outlines and decorates your curves. This lace continues over your shoulders making lovely straps. The bra is lightly padded with underwire and straps come from mid bra over the shoulder for support and create an appealing effect to your body. This babydoll truly complements the figure. We carry this lingerie in sizes small to 3X!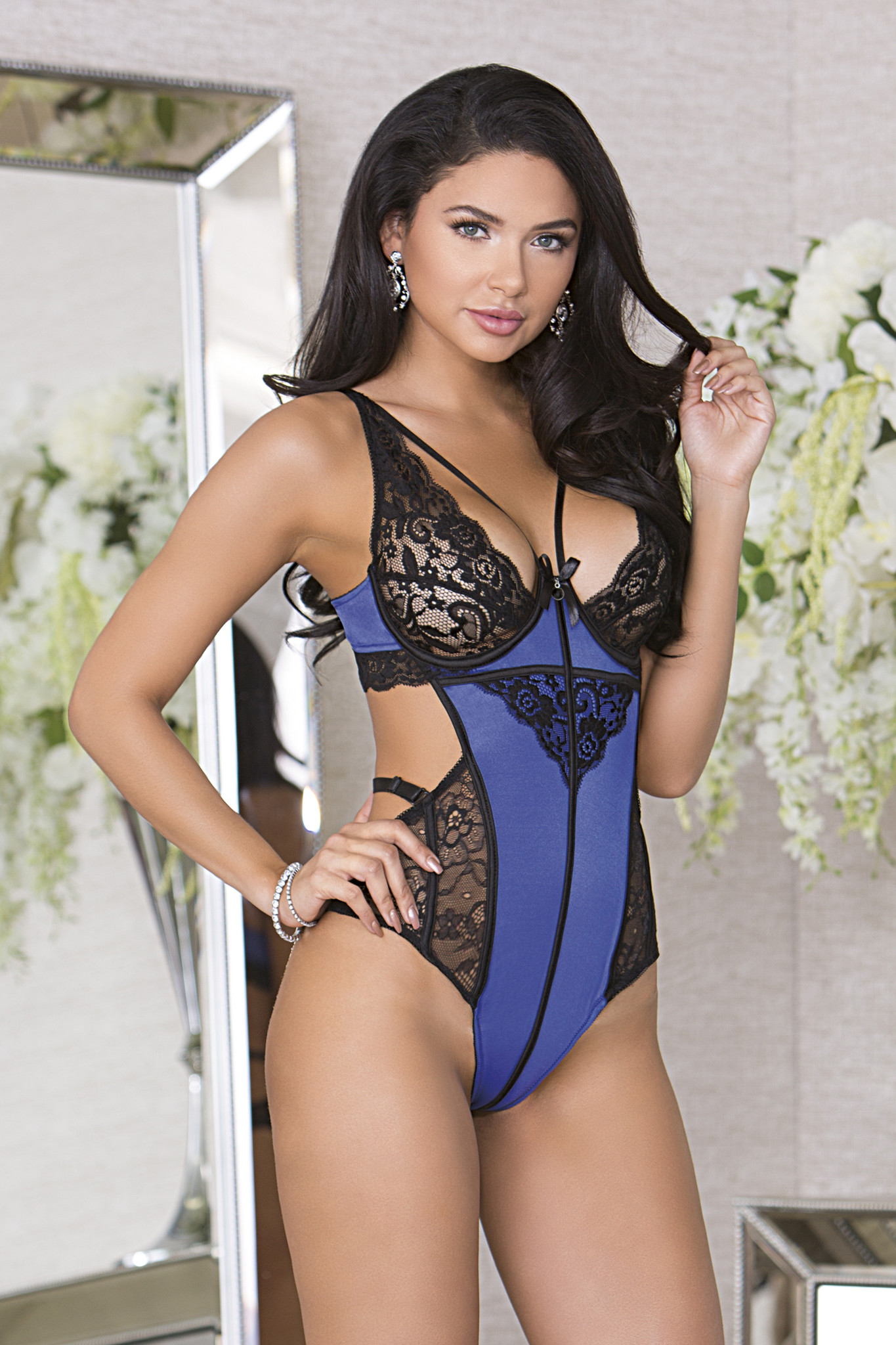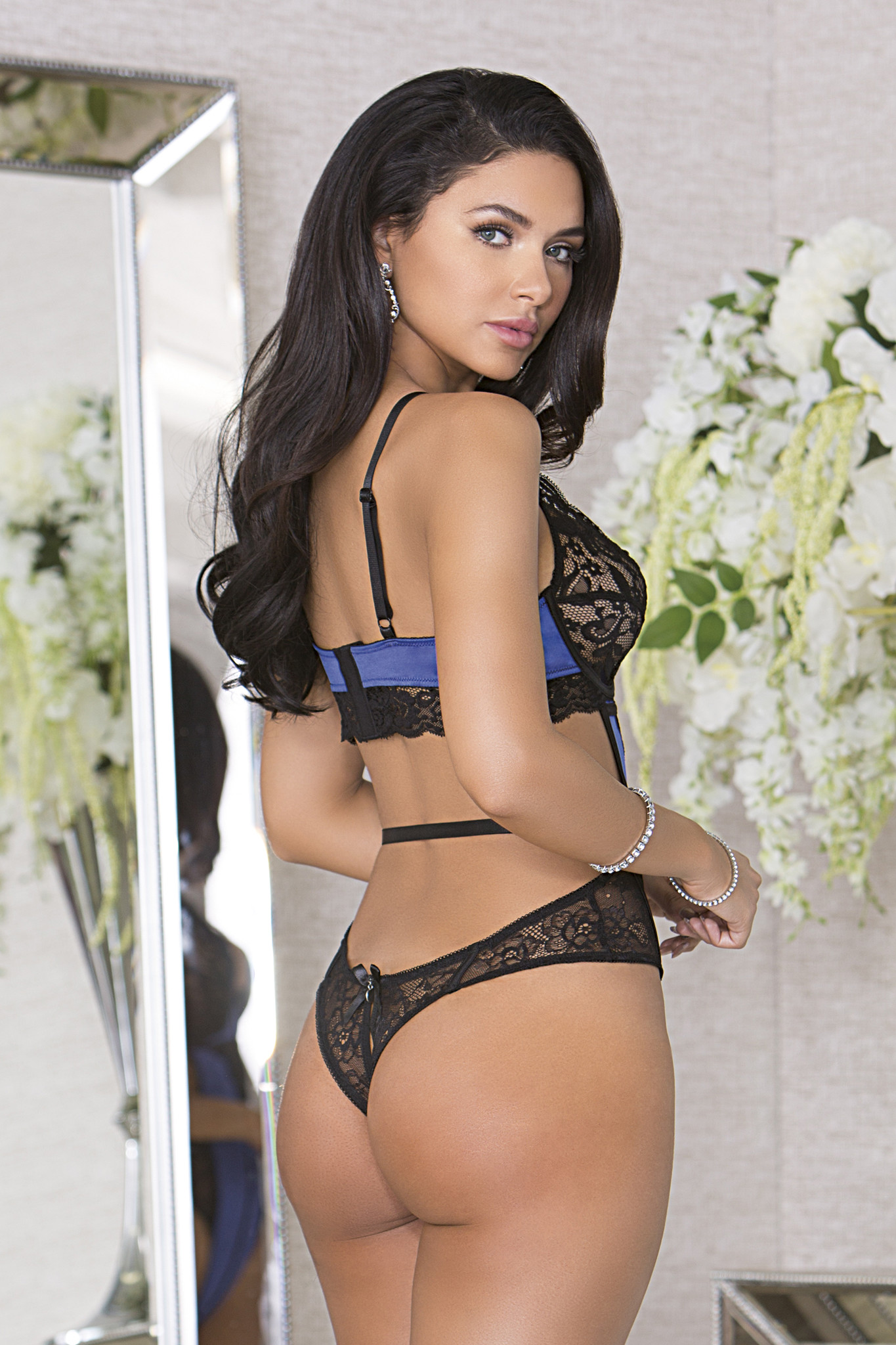 BACK IN STOCK! Our Blue Teddy with Black Lace is a smokin' piece of lingerie that also uses cobalt blue fabric and contrasting black lace. The lace and straps form around your body making for one interesting look. See through lace and over lapping material add to the aesthetic quality of this piece. It is also a crotchless teddy making it really stand out. We carry this in sizes small to extra large.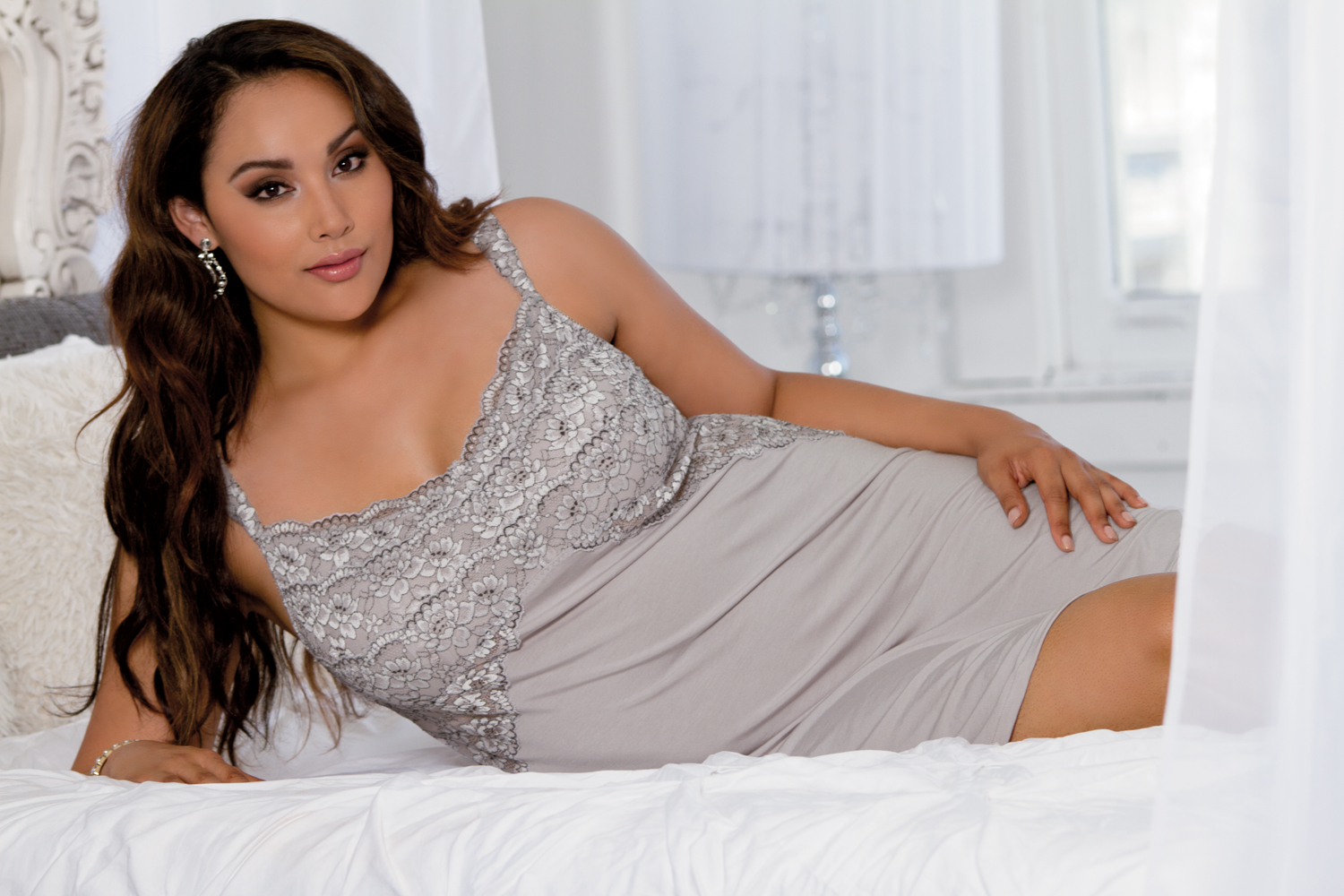 BACK IN STOCK! This is not your average night gown! This Lace Chemise is super soft and you will sleep like a baby all night long. Free flowing and light, this material lets your body breath and lets you sleep comfortably. The glamorous lace incorporated at the top of the gown gives it an elegant look and makes it even more beautiful. Just under the breast where the ribs are the lace becomes see through giving this gown a sexy look well. Make sure to have a look at all of our wonderful sleepwear! This gown comes in sizes small to 3X!
Thank you so much for reading my blog post. If you have any questions about these pieces or anything else we carry please feel free to reach out to us. Click on any of the images above for pricing and ordering info. We hope to see you in the store soon!
Ladies, make sure to join on private, ladies only Facebook group.
ANGIE DAVIS is a lingerie boutique & boudoir studio in Conway, Arkansas. Shop our website or come into the store and let us help you find the perfect piece of lingerie, your new favorite shoes, some gorgeous jewelry or the perfect fitting bra. We also offer bridal registry & lingerie parties!
1131 Front St. Conway, AR 72032 - 501-450-4886 - [email protected]