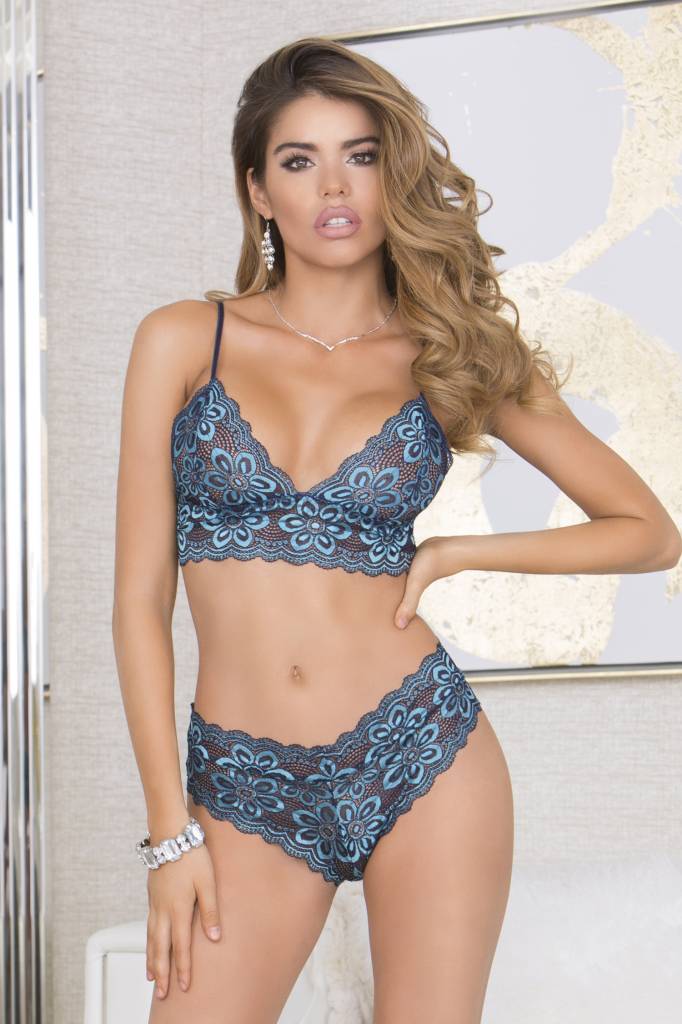 Today I'd like to share with you all a horrible disservice that I have been doing to myself without even realizing. I've been making my life, specifically my morning routine, harder than it had to be. Up until today I have been hoarding panties. You see, this summer I had set a few goals and one of them was to organize my house and get everything back in order. Due to time restrictions I've been slowly doing one room at a time, and today my room was the closet. My mom and sister give me clothes they don't want all the time. So when I do a closet-clean-out a trash bag full of clothes to get rid of is nothing out of the ordinary. Today however, in addition to the closet I also cleaned out my dresser and lingerie drawer. I haven't seen the bottom of my lingerie drawer in… I don't know, a couple months? Well today I found it, and I threw away about half of what was in there. I couldn't believe all the crap I had been holding onto. Panties that were so faded I didn't even know what they said. Bras that had lost their underwire and elasticity. Lingerie that I haven't worn in months has just been hiding in this drawer, making me dig through them everyday to find my favorite bralettes. Well not anymore! During this traumatic experience I have learned a valuable lesson and vowed to follow these four rules when it comes to my lingerie drawer.
Have High Expectations for Your Lingerie
You know what all the lingerie I threw away had in common? It was cheap. Bras or underwear that I had bought for less than $20 at department stores who did not specialize in lingerie. You get what you pay for and I got bras and panties that lasted about 3 months then faded or lost their elasticity. When you shop for lingerie you should have the same standards as if you were shopping for any other article of clothing. You wouldn't buy a dress that sort of fit, or was kind of comfortable. When I shop for clothes I have a love it or leave it policy. No maybes come home with me. I have vowed to keep this same mindset when shopping for lingerie. You need to make sure your lingerie fits properly. It needs to be something that you would proudly choose when you open your lingerie drawer in the morning, like our Amber Teddy. This teddy is soft, sexy, feminine and flirty. If this was in your lingerie drawer, you wouldn't think twice, you'd grab and go. Don't go home with something that is just good enough. Go home with pieces that you love, that are soft, comfy and fit you well. Go home with winners like this teddy.
Quality not Quantity
It is better to have 10 great pieces of lingerie than 567 pieces that you're just alright with. Besides, do you really need those 567 pairs of panties in your lingerie drawer? If you do laundry every other week, you really only need around 14-19 pairs of panties, and about 8 - 10 bras. Now, if you're a lingerie addict and all of your 567 pieces fit perfect and are super comfy, then that is a different story. By all means keep filling that drawer. However, if those pieces are faded or you never wear them because you're uncomfortable, throw them away! Don't keep that horribly uncomfortable bra set because you look hot in it. Come get our Blooming Love Teddy. You'll look super sexy in this deep V neck and you won't be dying to take it off all day. You'll actually be dying to wear it because it has halter straps! So you don't have to worry about your bra straps falling down all day. You know what else you don't have to worry about? Finding the panties that go with your bra or vice versa. This is a two-in-one! Great quality and you just knocked out one of your bras and panties.
Perfect Your Basics
When I shop for lingerie, especially now that I work for a lingerie store, I get really excited when we get new items and go for anything other than my everyday bralettes. However, I really ONLY wear bralettes. So the other lime green, push-up, ultra padding bras I own never get worn. They're cute, but not practical. Your lingerie should fit your wardrobe. Some necessities in every wardrobe are the neutral, strapless, padded and non-padded bras (and bralettes). Every woman should also own, soft, comfortable nude panties that don't show lines. Having these items can make finding something to wear in the morning so much easier. For instance, this Blooming Love Bra and Panty Set. This super cute set comes in sizes S to 3X. This set is a sexy addition to any lingerie drawer!
Now, I know what you're thinking, this set isn't nude, or strapless, this isn't a basic. Your basic lingerie doesn't have to be neutral, it just has to be something you can wear with your everyday clothing. I own a lot of bralettes, but I also own chemises and teddies for date nights and special occasions. I'm not saying don't go crazy with your lingerie, by all means, fill that drawer with a variety. Your lingerie is a reflection of your style, just like the clothes you wear everyday. However, make sure you're comfortable in all your clothes EVERYDAY. Fill that drawer with comfortable essentials that make you feel your best.
TRY IT ON
I am definitely guilty of ordering clothes, especially lingerie online. However most of the lingerie I order online doesn't fit or it just wasn't what I was expecting. With online shopping being so popular today it's a wonder anyone even leaves their house anymore. You can have literally anything shipped directly to your door. Which is incredible, and we should know because we ship worldwide so anyone can experience the joy of our lingerie. You could send anyone, anywhere our Allison Babydoll! However if you have the opportunity to come in and let us fit you for a bra, do it! You can leave our store knowing exactly how your lingerie fits, feels, and looks on you. I know shopping, especially lingerie shopping can be really intimidating. We all have things we'd like to hide or cover up. We don't want to go in with high expectations and leave with low self-esteem. That will not happen in our store. Our staff is trained to help you. We know exactly what will look good on your body, hide what you need to hide, and help show off your best features. We have tons of lingerie for everyone. We have plus size lingerie up to size 6X!!! Bras up to size K!!! We never want anyone to feel like they aren't sexy. So come to our store, TRY ON your lingerie and leave feeling fabulous.
I hope these four tips will help you keep your lingerie drawer from overflowing with unnecessary ill-fitting items. Hopefully you found some things in this article to update your drawer with like this Blooming Love Babydoll. Which comes in sizes S to 3X. Lingerie is the foundation of your outfit. It's the first thing you put on and the last thing you take off. Even after you take off your day-time lingerie, you still have your soft comfy babydolls and robes to look forward to. You wear lingerie all the time! Your lingerie should be comfortable, and an expression of you, just like all your other clothing. Don't neglect it just because no one sees it. Upgrade it because you wear it all day. Fill your drawer with lingerie that makes you feel sexy all the time.
When was the last time you updated your lingerie drawer?
Let us know in the comments for a chance to win a $25 gift card.
No purchase required to enter. Drawing is held once a month. Winner will be notified via email.
ANGIE DAVIS is a lingerie boutique & boudoir studio in Conway, Arkansas. Shop our website or come into the store and let us help you find the perfect piece of lingerie, your new favorite shoes, some gorgeous jewelry or the perfect fitting bra. We also offer bridal registry & lingerie parties!
1131 Front St. Conway, AR 72032 - 501-450-4886 - [email protected]ANGIEDAVISBoudoir.com