Quite a few women ask me what my favorite brands are for different bras and lingerie. One of my personal favorites, and one of our best-selling brands is Montelle, hands down! Montelle is just one of our many best-selling brands in the lingerie store. Their bras and lingerie are known for their comfort, soft material, and amazing fit!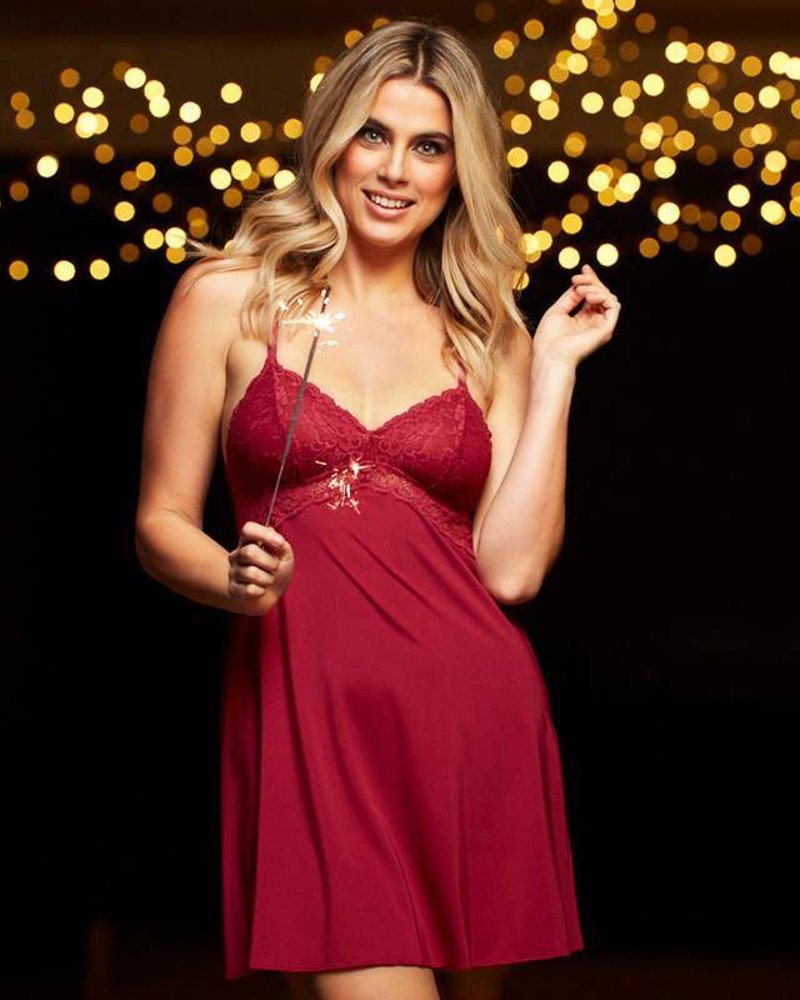 Montelle's "Unicorn" Nightgown
Montelle doesn't actually call this nightgown the "unicorn" nightgown, but I do. Why? Because it does everything I want a nightgown to do and it's so soft it feels like unicorn hair! This chemise is made from the softest microfiber you have ever felt. The empire waist gives you enough support to keep the "girls" in place while you sleep. Plus, it's sexy, but not too sexy that I can't wear it around my kiddos. Also, I get hot at night and sometimes I'll even have hot flashes or night sweats. I love that it's made out of a microfiber material which makes it cool to the touch, so it keeps me cool all night. Another amazing thing about this magical nightgown is that it doesn't get wrapped around my legs at night. Nothing is more annoying at two in the morning than to be woken up because you're tangled up in your own nightgown. Every time Montelle comes out with a new color I immediately order it and make sure to add an extra of my size, because I cannot own enough of these nightgowns!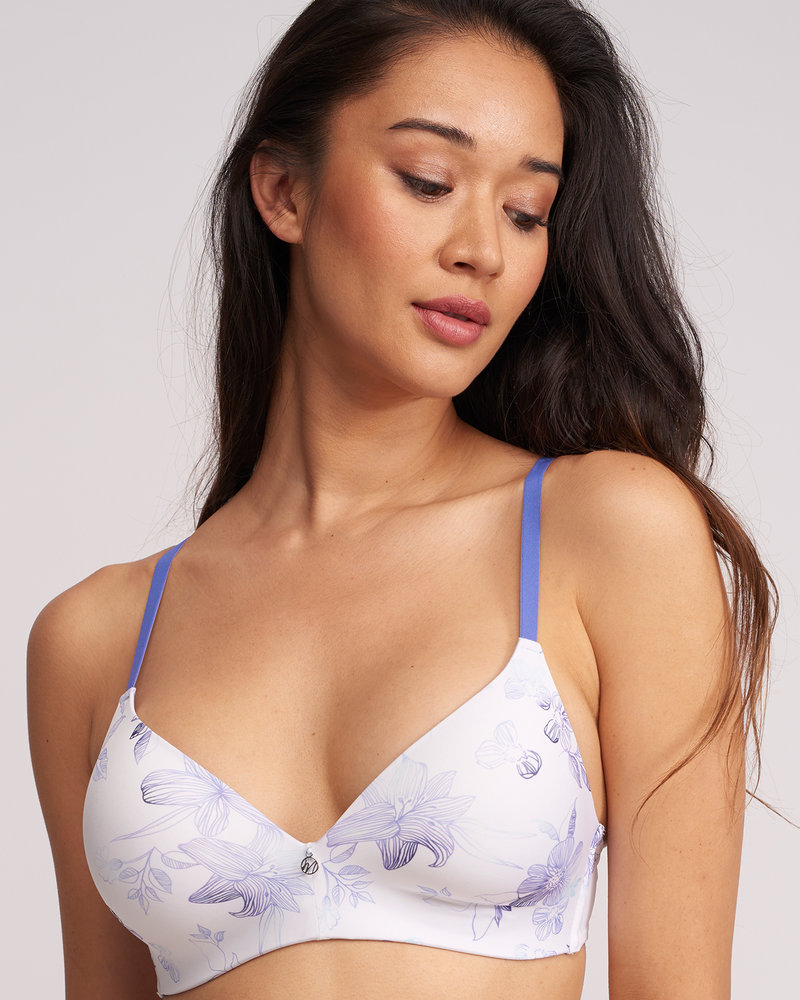 This bra has been flying off the bra racks ever since I brought it in! This gorgeous and comfortable bra is also made out of a soft microfiber, so you know it feels good against your skin. The support it gives you is absolutely perfect as well. The cups are lightly padded which give you an even "rounded" shape, making this a perfect bra for t-shirts or any work blouses. The wide set straps are also adjustable on the back of the bra, so you can wear it as a racerback style with tank tops or for added support. As an added bonus the design on this new bra is just gorgeous! 
Montelle's Front Close Racerback T-Shirt Bra
I get a lot of requests for front close and racerback bras, so when I saw this one hit the Montelle catalog I ordered it ASAP! These have been a huge hit in the store, because of the fact that they close in the front, which can be a lot easier to put on. Plus, they're a racerback design so they give you a bit more support than a bra with normal straps. The bandless front closure is also a bit more comfortable for women with shorter torsos, and the plunging neckline makes it perfect for any occasion.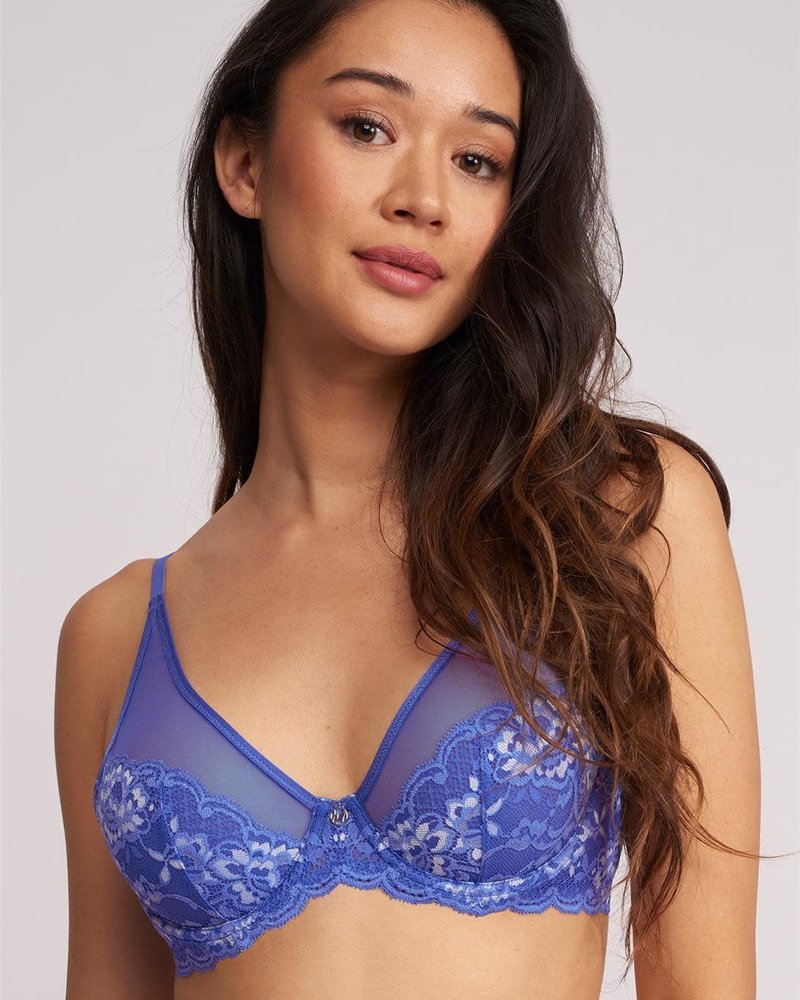 Montelle's NEW Grace Unlined High Apex Bra
I am absolutely in love with this bra! The Apex design is a fairly new design in the bra world. The non-padded cups make it similar to a bralette, but the band and back closure make it a bra. The lace detail and high apex design of this bra are absolutely to die for too! Again, it's Montelle so you know it's soft! I have actually had trouble keeping these beauties in stock because my beautiful customers love them so much! I can't tell you how many times in the past few months I have heard someone yell, "THIS IS THE ONE!" or "I LOVE THIS BRA!"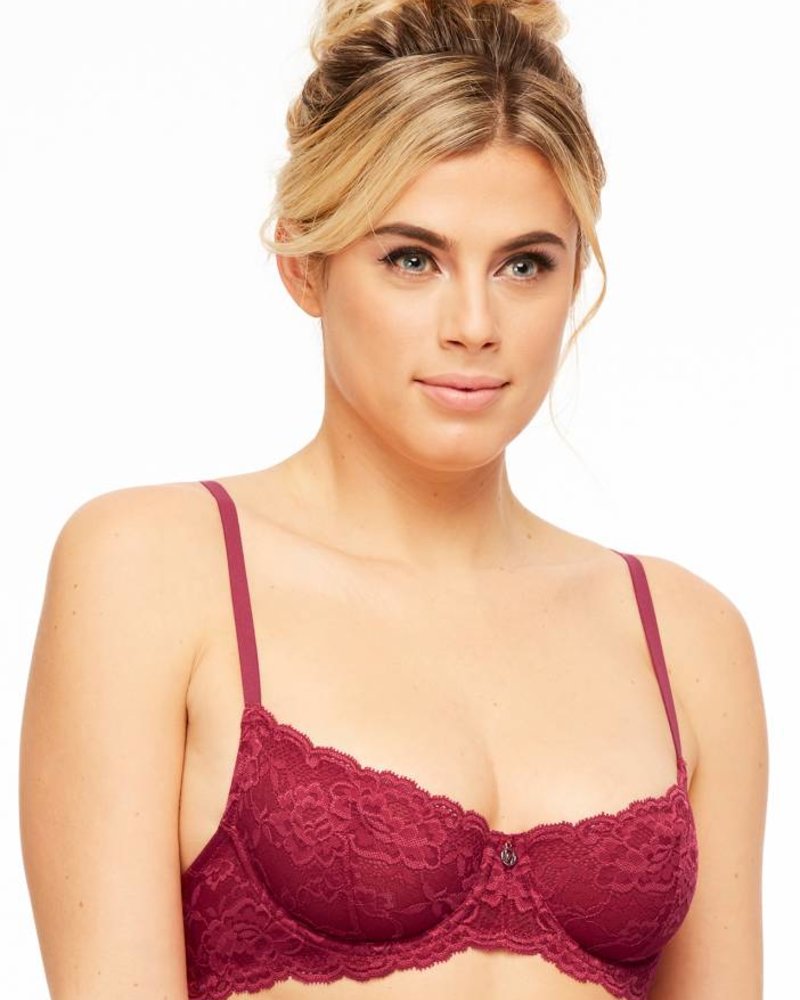 This is another one of my favorite bras. I love the demi cup! Demi cups give you lots of beautiful cleavage and this one is made with lace cups that are soft! This is definitely one of my go to bras from Montelle! This bra is made with non-padded lace cups that support you from the lined band and adjustable straps. The scalloped edges, floral overlay, and front silver charm all make this bra absolutely stunning! Plus, the lace is very soft!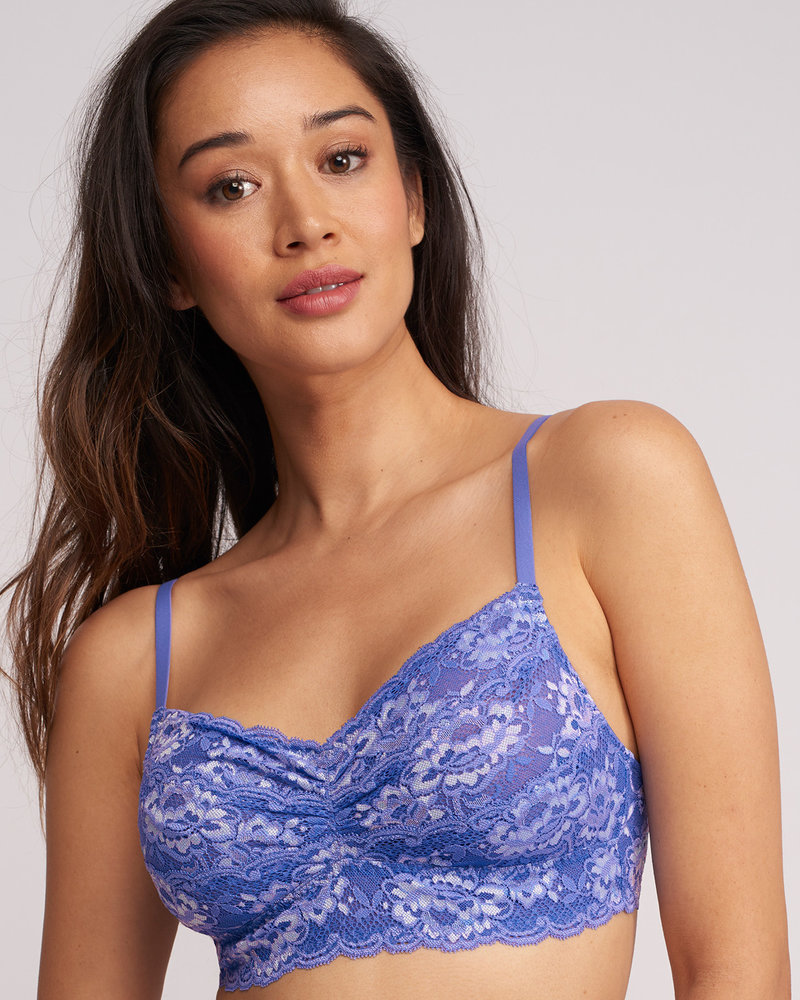 If you love bralettes then you are going to absolutely adore Montelle's new lace bralette! This bralette has hooks in the back and is sized much like a bra so you will not find a bralette that has more support than this one does. The sewn-in elastic band and elastic under arms give this bralette a close body fit which helps to support you in all the right places. Plus, the floral overlay and scalloped edges make this bralettle absolutely beautiful!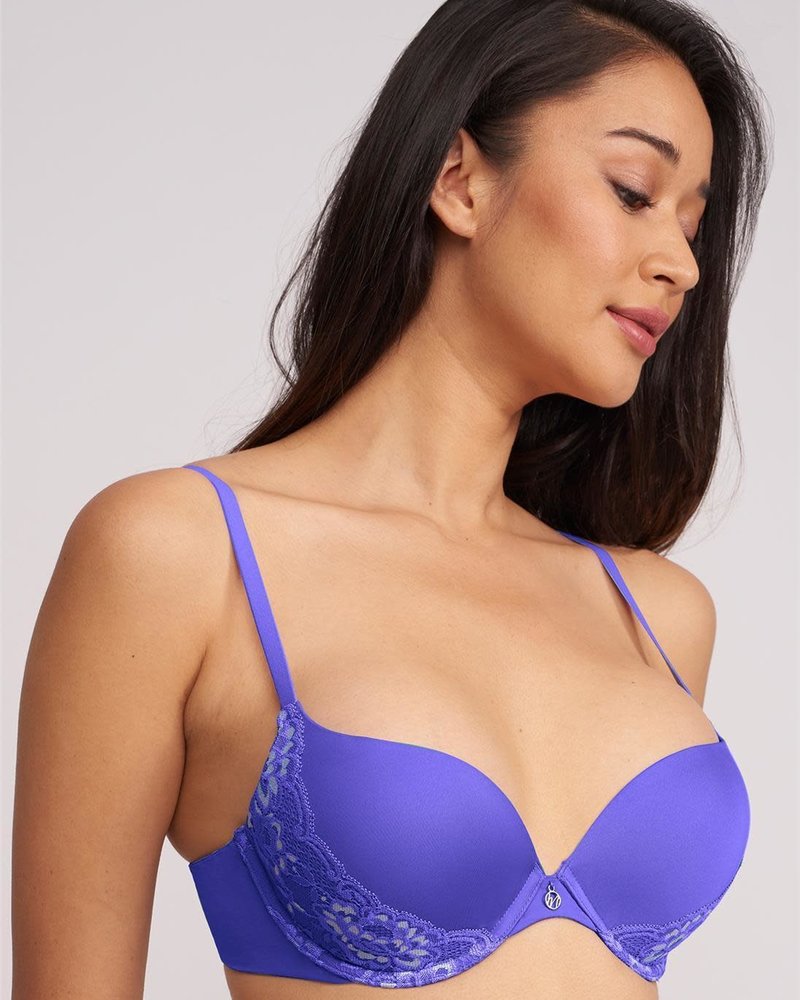 Montelle's Allure Light Push-Up Bra
This bra is one of my absolute favorite bras to wear! I call it my 'Date Night Bra". If I am wanting to give the "girls" a little more lift and have some amazing cleavage then this is the bra I put on. I absolutely adore this bra! Plus, again it's made from the softest microfiber ever so you won't find a push-up bra that is more comfortable than this one.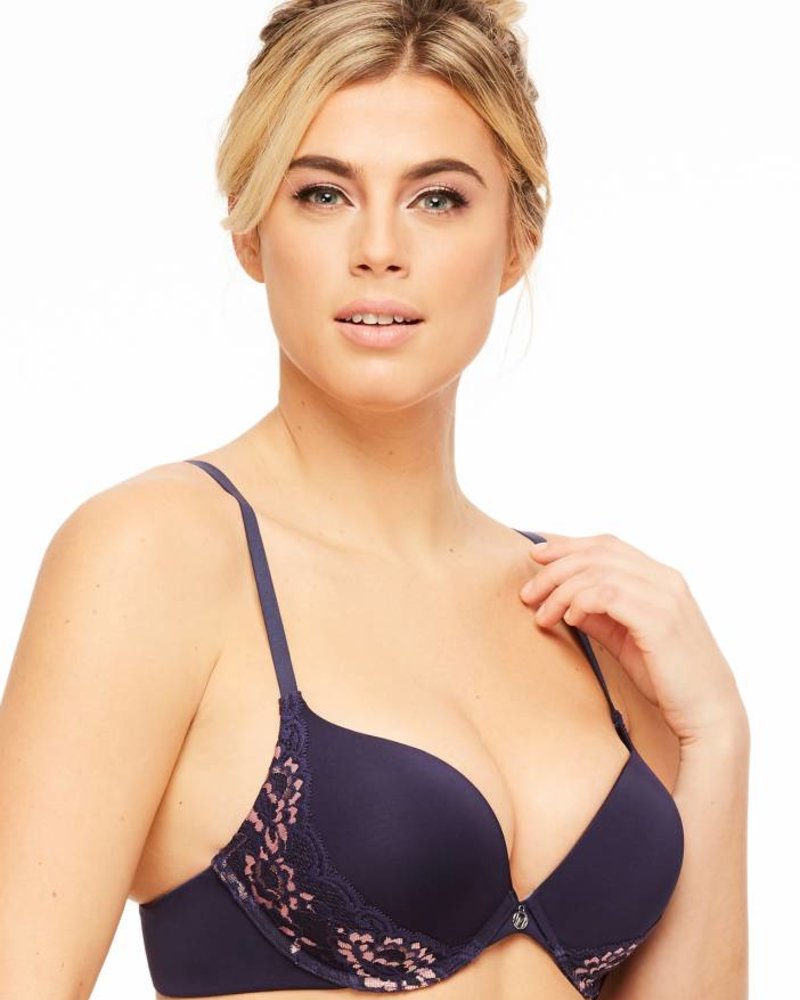 Montelle's Prodigy Ultimate Push-Up Bra
My favorite Montelle push-up bra is Allure, but only because they don't make the Prodigy in my size! This push-up will push the girls up into outer space! Okay, maybe I am getting out of hand, but trust me when I say you will LOVE this push-up bra! Again, this too is made out of soft microfiber so you will be comfortable, supported, and have the cleavage you crave!
Montelle's Multi-Way Strapless Push-Up Bra
Ever wished your strapless bra gave you some lift instead of feeling like it's shoving the "girls" down or squishing them? Of course you have! This is the solution for this problem. This bra will lift up the girls and give you the support you need in a strapless bra made of soft microfiber. The straps are also adjustable so depending on the outfit you're wearing or the support you need, you have all the options available. Including ditching the straps altogether.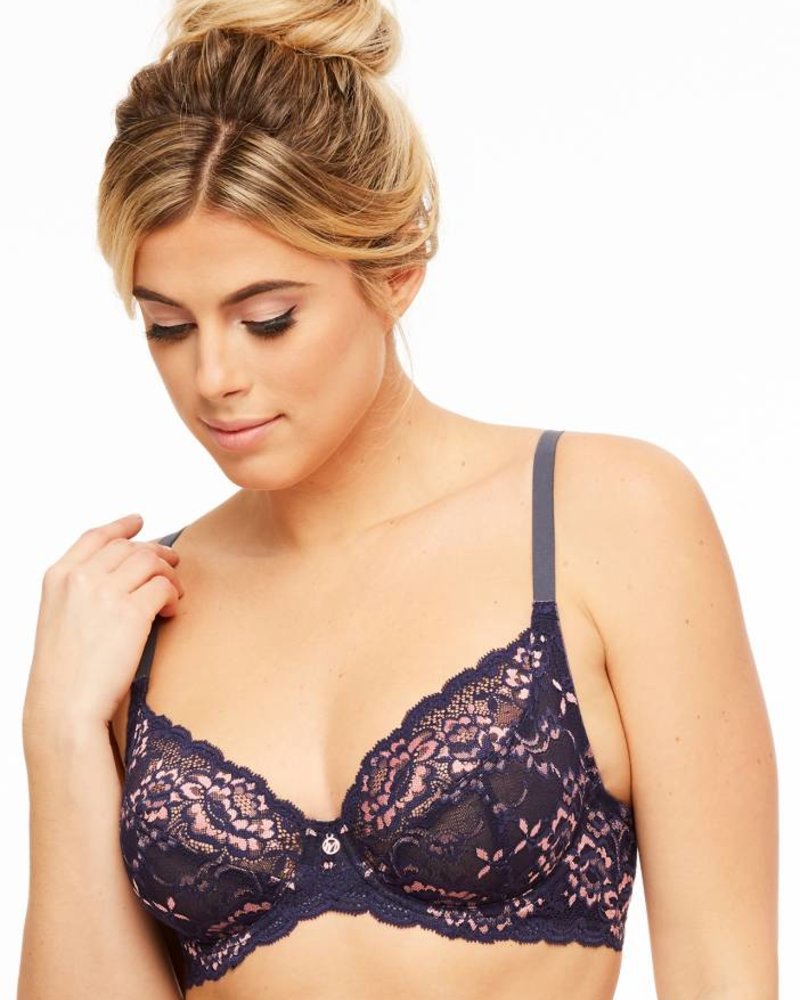 Montelle's Divine Full Coverage Lace Bra
Almost every time I put a lace cup bra on a lady she loves love it! Especially when it's soft lace made by Montelle! You wouldn't think a lace cup bra would give you the support that you need, but it's not about the cups at all. Support comes from a properly fitted bra. If your band is fitting like it's supposed to, the cups are the correct size, and the cut of the bra is right for your body shape then you're going to have all the support you need and want.
If you liked any of my favorite products from Montelle click here to check out the full selection from the lingerie store. I have so many more soft, gorgeous items that you are sure to fall in love with, bras, panties, robes, sleepwear, lingerie and so much more! If you don't know what style of bra you like best, or what size bra you should be in, check out the link below to schedule a bra fitting or personal shopping appointment with me! I opened this store so that woman could look and feel beautiful everyday by having gorgeous bras and underwear that made them feel amazing. If your bras and lingerie aren't making you feel amazing you need to schedule an appointment with me and come get yourself a new set from Montelle! 
To be fitted in one of these beautiful Montelle bras click here to schedule your Bra Fitting Appointment with me!
I hope you enjoyed this blog post about some of our Montelle bras.
If you have any Montelle bras which ones are your favorite?
FOLLOW US ON INSTAGRAM @angiedavislingerie
FOLLOW US ON SNAPCHAT @Angiedavisphoto
 ANGIE DAVIS is a lingerie store & boudoir studio in Conway, Arkansas. Shop our website or come into the store and let us help you find the perfect piece of lingerie, your new favorite shoes, some gorgeous jewelry or the perfect fitting bra. We carry bras up to O, bralettes up to HH, nursing bras, lingerie up to 6X & much more! We also offer bridal registry & lingerie parties!
LADIES! JOIN OUR LADIES GROUP FOR MORE INFO!
GUYS! JOIN OUR MEN'S GROUP FOR MORE INFO! 
1131 Front St. Conway, AR 72032 - 501-450-4886 - [email protected]