Posted on
By Mika Coddington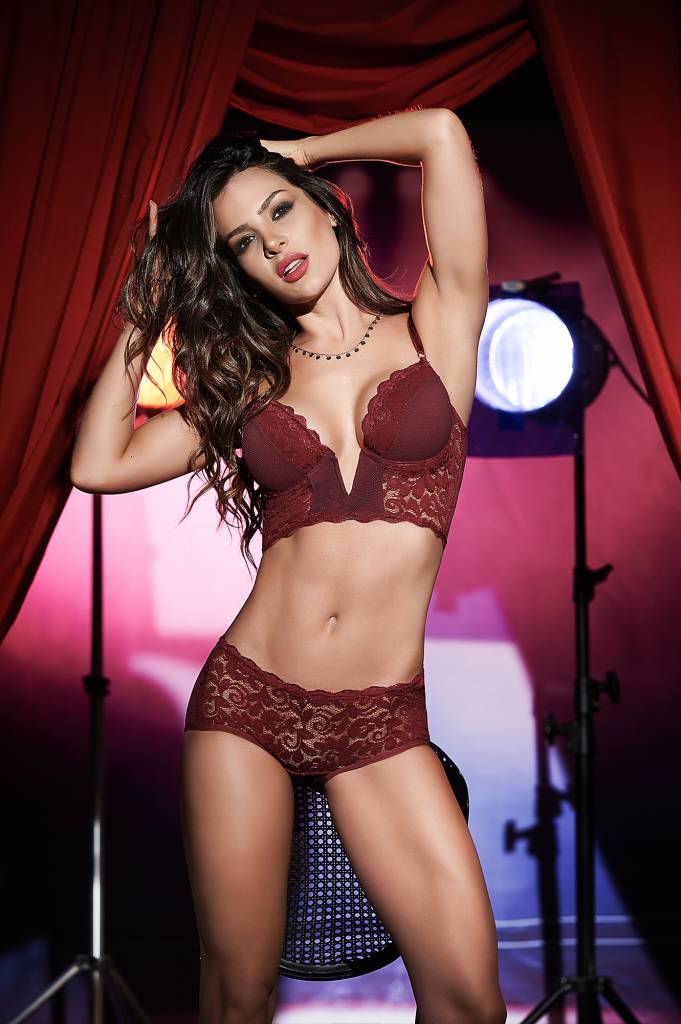 We are super excited to show off these new pretties! Mapale makes super sexy lingerie and really cozy sleepwear. Come in to the store or shop online at ANGIEDAVISBoudoir.com to get these goodies! Don't forget we ship internationally! As always we have FREE shipping on orders over $100! Just enter SEXYSHIP at checkout and shipping is on us!
Who wouldn't love this super hot lingerie? This Plunging Two Piece is our best seller! This beautiful shade of burgundy v cut bra is absolutely killer, and the bow on the back of the panties is the perfect touch! It is also very comfortable and would work great as a bra underneath everyday clothes. This would also make an awesome outfit if you have a boudoir session coming up! This comes in sizes small to large.
Here it is black as well. This is a very popular set! Form fitting, this lingerie really compliments the figure. It has a sexy touch with see through soft fabric. You have to admit this is one hot look! These and the burgundy ones are selling fast so you better get these while you can! Available in sizes small to large.
Our Mapale Grey Sleep Set is grey & aqua green are such a cute color combo. This pajama set has cute little things to it like lace going up the sides of the bottoms and little heart buttons on the top. This outfit is super cozy too! You'll sleep good and look cute doing it in these pj's! It comes in sizes small to extra large.
Our new Mapale Black Sleep Set is nothing but polka dot fun! This night set is so cozy and sexy! The sides of the bottoms can either be tied up or left down for whatever look you want. So show ya booty in this cutie! It is very comfortable to sleep in and it comes in sizes small to extra large!
Our new Mapale Coral Sleep Set is the cutest thing ever! These pajamas are so soft & are perfect for those lazy days, sleepful nights, or just doing stuff around house. A giant plaid heart goes just over your ribs on this vibrant coral shirt, and the heart matches the cute plaid shorty shorts! This outfit is so flirty and you're going to look so cute doing anything in these! Available in sizes small to extra large.
Thanks to everyone for reading our blog post. We really hope you enjoyed all the beautiful new lingerie and sleepware. Click on any of the images above for pricing and ordering info. We hope to see you in the store soon!
ANGIE DAVIS is a lingerie boutique & boudoir studio in Conway, Arkansas. Shop our website or come into the store and let us help you find the perfect piece of lingerie, your new favorite shoes, some gorgeous jewelry or the perfect fitting bra. We carry lingerie up to size 6X, bras up to size 44H, daily wear & sexy wear! We also offer bridal registry & lingerie parties!
1131 Front St. Conway, AR 72032 - 501-450-4886 - [email protected]