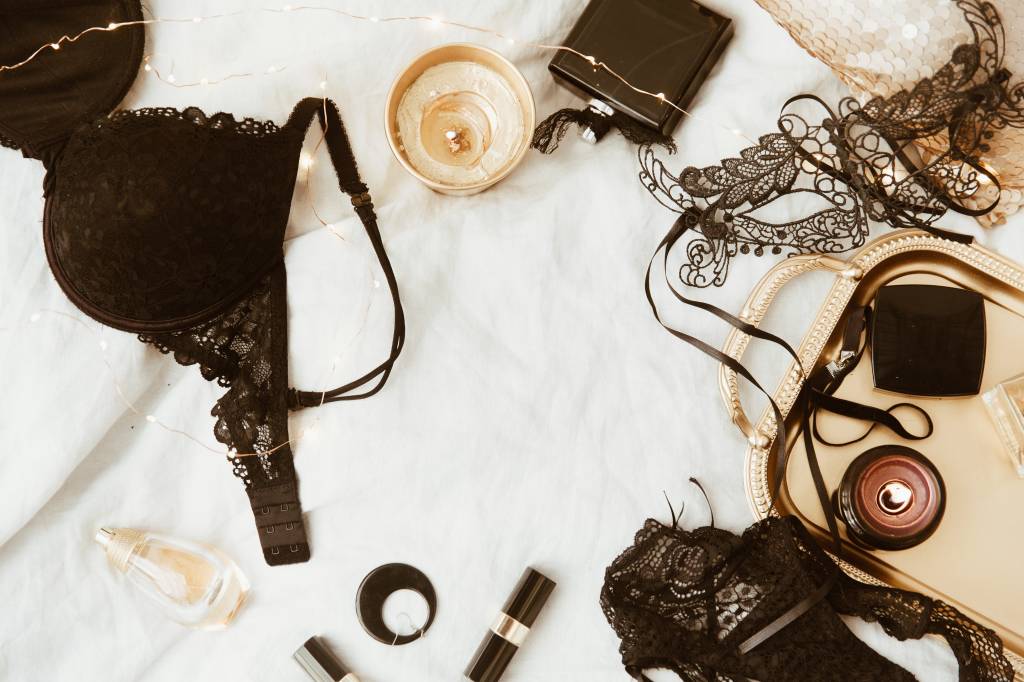 Often it's easy to see what's trending in fashion. Just flip through the newest issue of Vogue, or take a look at what your peers are wearing. Lingerie trends are a little more tricky. You can't just look around and see what everyone is wearing to see what's in. Or can you? Fashion trends and lingerie trends have a direct correlation. Have you noticed that chokers are making a huge comeback? You can buy a choker in just about every store that sells jewelry. Adjustable and removable chokers have been an add on for lingerie pieces and on-their-own-accessories associated with lingerie for almost a decade now. They've become a more widely used accessory in the bondage trend for the last ten years. However, chokers only started to hit the fashion runways for the first time since the 90s in 2015 and didn't make their huge public comeback until early 2016. Lingerie trends often dominate what's trending in fashion. Only the public can't see what lingerie celebrities are hiding under their fashion trends, so it's harder to be in the know. Which is why we've compiled this list of spring and summer lingerie trends so you can know what is in and what to look for in the upcoming months.

Sheer Prints
Mesh has been trending in lingerie for quite a while, and has only just started making its way into the fashion industry along with the rise of embroidered prints. The sexiness of see through material will always be 'in' as far as lingerie is concerned, but companies have started to introduce different designs or "tattoo prints" along with the mesh. Essentially prints cover the lingerie and your body, and because the mesh is see-through it creates a tattoo-like effect. My favorite of the sheer prints designs has to be our ICollection Elegant Garter Set (sizes up to 3X). I also love the patterns on our New Plunging Lace Dress from Mapale. Remember how I said lingerie trends and fashion trends have a direct correlation? This dress uses the same "tattoo print" pattern while also including sheer mesh panels. Both of these pieces also include floral patterns. Floral will always be used in lingerie as they usually have a feminine feel.  They are also being seen more here lately as they are always a spring trend. Spring brings flowers, outside and on the covers of magazines and catalogs.
Straps Straps and More Straps
Strappy lingerie started to come into play with the rise of the bondage trend, and has recently blown up. It seems as though lingerie lovers can't get enough straps. This sexy trend is popular due to its sexy appeal. The straps provide playful lines for the viewer and cover just enough to leave a little to the imagination. Some lingerie features straps as an add on like our Elomi Bijou Flirt Underwire Bra (sizes up to K). While others leave a lot less to the imagination like our Coquette Wet Look Babydoll. This babydoll features a removable mesh panel that can be worn as a bra attachment or adjusted into a skirt for a babydoll look.
Bodysuits
This is by far my favorite lingerie trends. TOO much of my paychecks have gone to all of our new bodysuits. I just love how they fit your body perfectly and how it's an all in one piece. I don't have to find the panties that match the bra, I can just find my favorite bodysuit and go. We have tons of teddies and bodysuits, including this NEW Shredded Teddy from Mapale (sizes up to XL) and this NEW Lace Up Teddy from ICollection (sizes up to XL). Bodysuits are sort of all in one trends. They feature mesh, prints, straps, and are their own trend for being a two-for-one piece. I'm absolutely in love with these and I think you should try on one of our bodysuits today. Like seriously, finish reading this and come to our store.
Chokers
As I mentioned earlier this trend has blown up in the past two years. Everyone you know probably owns a choker, or owned one in the 90s. This trend has become widely popular and mass produced all over the world. Chokers have been popular in the lingerie world for the past decade. As they've grown into the fashion industry they've also grown in the lingerie world. Now steel chokers, and blinged out collars are becoming more and more popular. They've even started making their way out of the bedroom and into public with the rise of body jewelry. Personally I love the removable choker options, like the ones featured on our Coquette J'adore Babydoll. I hate when anything is tight around my neck for too long, so I like the option to take them off. I love the bling and sparkle of our Mesh Choker Bralette as well!
Bright Colors
Bright colors are always present as spring and summer make the world around us a little brighter. Pastel colors have been trending for the past few years and absolutely refuse to go away. Recently we've received a few new colors from Cosabella including this Never Say Never Girlie Bra & Cutie Thong (on the right). This year the color trends are getting even brighter with almost neon like hues. Such as this Cosabella Crawford Bralette and Bikini. Brighter colors are on the rise along with rave wear and fashion. More and more people are opting for colors that are bright and vivid.
Get trendy this summer by letting a choker show above your shirt, or by letting a bralette peep out from under your tank tops. Just because no one sees your lingerie doesn't mean you can't be trendy. Lingerie is amazing because it isn't for the public. Lingerie is just for you, you can be trending with mesh, straps, chokers, and bodysuits all at the same time if you want! Come see us today and pick out your new summer styles.
Do you have any questions about lingerie that we haven't answered on the blogs?

Let us know in the comments for a chance to win a $25 gift card!

Winner drawn monthly.
Do you think we're the best?
We've been nominated in several categories for Arkansas Life's Best of the Best 2018 awards. If you think we're the best vote for us today! 
FOLLOW US ON INSTAGRAM @angiedavislingerie
FOLLOW US ON SNAPCHAT @Angiedavisphoto
 ANGIE DAVIS is a lingerie boutique & boudoir studio in Conway, Arkansas. Shop our website or come into the store and let us help you find the perfect piece of lingerie, your new favorite shoes, some gorgeous jewelry or the perfect fitting bra. We carry bras up to O, bralettes up to HH, nursing bras, lingerie up to 6X & much more! We also offer bridal registry & lingerie parties!
LADIES! JOIN OUR LADIES GROUP FOR MORE INFO!
GUYS! JOIN OUR MEN'S GROUP FOR MORE INFO! 
1131 Front St. Conway, AR 72032 - 501-450-4886 - [email protected]