Pregnancy is an amazing and magical time in a woman's life. A baby is growing inside of her, she is giving life to someone. While this process is beautiful, it can also be overwhelming and messy. During this time a woman's body goes through many changes, pregnancy hormones, morning sickness and strange cravings. A lot about the body is changing, so it is only natural that new things will be needed, like a good nursing bra.
A good nursing bra is extremely important. Nursing women are strongly advised not to wear tight-fitting or metal underwire bras. These types of bras can place unnecessary pressure on the milk ducts resulting in blockage of milk flow. In some cases this pressure and blockage can result in infections. Nursing bras are made to allow for the growing diaphragm. They should have several hook & eye closures, and wider straps to support more weight. With all the changes going on it can be difficult to know what to get, and when, so here are a few tips to help find the right nursing bra for you.
Get Fitted
I cannot stress the importance of getting a professional bra fitting enough. Eight out of ten women are wearing the wrong size bra. Eight out of ten!!! All women should have a professional fitting every time a new bra is purchased, but especially if you are pregnant or nursing. Maternity and nursing bras are a totally different ball game. Don't expect to go through your pregnancy in sports bras and go right back to your pre-pregnancy bras after your womb is evacuated. Your body is going through tons of changes, and will probably continue to change. Fluctuation in bra size in either direction is completely normal, so don't be discouraged if you get a bra and the next day it feels too loose or tight. This is normal. The next day it will probably fit perfectly again. Getting a professional fitting will help ensure that your bra doesn't restrict your movement or put unnecessary pressure on your breasts. Non-wire bras are recommended like our Cake Sorbet Non-Wire Nursing Bra. Sizes up to I. A non-wire bra will help to prevent any restriction.
Get a Fitting Around the Eighth Month of Pregnancy

Don't wait until you're actually nursing to buy a nursing bra. Your body will learn to regulate milk flow around eight weeks post-birth. The eighth month of pregnancy is the closest your breasts will be to this size. Get fitted and purchase a nursing bra in the eighth month of your pregnancy to ensure that when you start nursing, your breasts are properly supported. During this time cups are advised but not seams. So get a bra like our Cake Parfait Bra. Sizes up to G!
Don't Expect Anything to Fit Immediately After Pregnancy
The first eight weeks after birth your body is going to be all over the place. This is the period where your body is learning to regulate everything especially milk flow. This will cause large changes in breast size in both directions. Any bras with cups are not advised for this stage as they will fit one day, but not the next. A seamless bra is highly recommended to keep up with these changes. Get a bra like our Sugar Candy Fuller Seamless Bra. Sizes up to XL!

Buy a Bra with Several Hook and Eye Closures
After the eight week mark, when everything is getting regulated is when a bra with cups is advised. When purchasing a nursing bra for post eight weeks, make sure it fits well in the cups. This is what you will need to be supported most. Your diaphragm will most likely continue to fluctuate for a while, so be sure that your bra will be able to keep up with these changes. The band of your bra is what supports your breasts the most, so be sure you get a bra like our HotMilk Show Off Peony Bra. Sizes up to H! This bra has six hook and eye closures for diaphragm expansion.


Think about your day-to-day activities
Are you mostly going to be staying at home? Are your going to attend mommy and me or run errands everyday? Are you going to hit the gym or get back into yoga? Think about these things when purchasing your bras. We have a wide selection of bras for all your day-to-day activities, like our Cake Cotton Candy Sleep & Yoga Bra. Sizes up to XL. This bra is designed to offer support during light activity and stay in place while sleeping.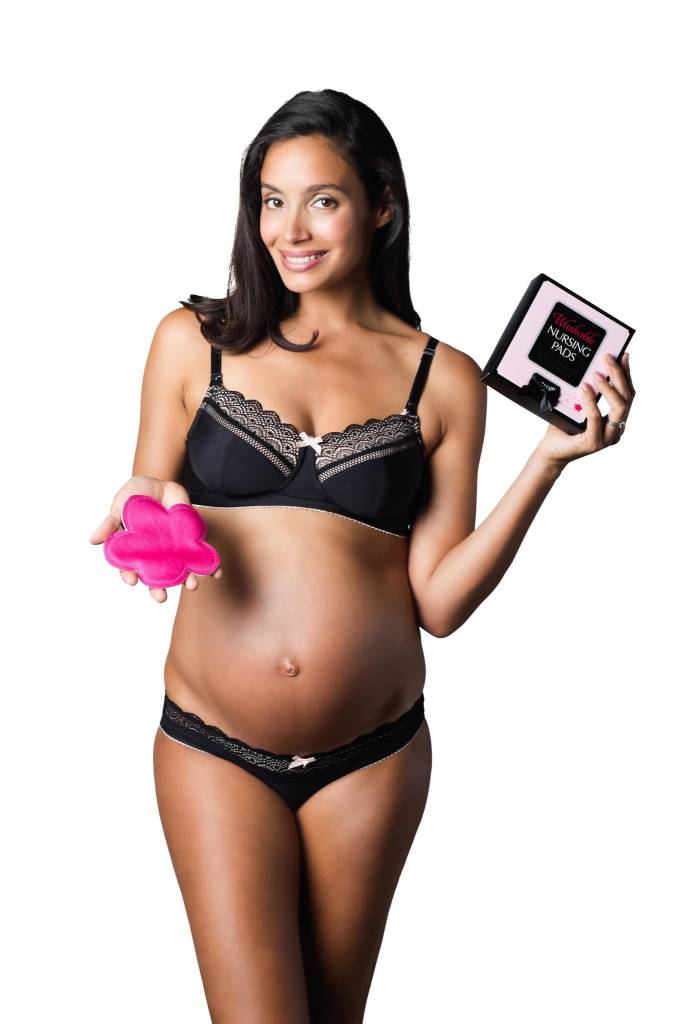 Don't Forget the Nursing Pads
As your milk comes in you will need these pads to protect your clothes. As your milk becomes regulated your breasts will leak periodically. Nursing pads will ensure that milk doesn't get on your bra or on your clothes, but sometimes you may leak through the pads. This is normal. Pads will need to be changed as they get wet. Keeping wet pads on for too long could result in sore nipples or even cause yeast to grow. You'll want to keep your nipples as dry as possible to prevent this. Our HotMilk Bamboo Nursing Pads are reusable and machine washable. Made with bamboo fiber, these pads are naturally hypoallergenic and more absorbent  than cotton. 
What tips for Nursing Moms would you add? 
Let us know in the comments for a chance to win a $25 gift card!
Winner drawn monthly. 
FOLLOW US ON INSTAGRAM @angiedavislingerie
FOLLOW US ON SNAPCHAT @Angiedavisphoto
 ANGIE DAVIS is a lingerie boutique & boudoir studio in Conway, Arkansas. Shop our website or come into the store and let us help you find the perfect piece of lingerie, your new favorite shoes, some gorgeous jewelry or the perfect fitting bra. We carry bras up to O, bralettes up to HH, nursing bras, lingerie up to 6X & much more! We also offer bridal registry & lingerie parties!
LADIES! JOIN OUR LADIES GROUP FOR MORE INFO!
GUYS! JOIN OUR MEN'S GROUP FOR MORE INFO! 
1131 Front St. Conway, AR 72032 - 501-450-4886 - [email protected]