Some women dream of their wedding day their whole lives. Before Pintrest was a thing girls would clip pictures from magazines and tape them together in a scrapbook. They would dream of prince charming standing at the end of a long flower covered isle. As we got older we also start to dream of the wedding night. If you were like me and raised in church, the wedding night was supposed to be THE night. Something you waited for, something special. Even if you didn't wait it was still supposed to be an amazing experience. After all this is a once in a lifetime opportunity to connect with your beloved in a totally mind blowing way, right?
Nope. That's all a load of garbage. A total myth. It probably won't be this amazing thing and that will be okay. Now I know Hollywood has conditioned us to think that our wedding night is supposed to be the most magical night of sexy fun time in our lives. On the first night as husband and wife (husband and husband, wife and wife, what have you) your world will be utterly rocked by the new connection you will have magically developed in a day. Well, not to bring anyone down, but this is a total myth. On average 25% of couples don't end up consummating their marriage on their wedding night. Many of the couples who did end up doing the deed, in a recent survey, reported that it wasn't really that great. This isn't surprising once you think about all the challenges that this day will present. Your wedding day is something that you and your beloved have been planning for months, if not longer. A day with so many events packed into one, ceremony, wedding day pictures, reception, speeches, first dance, and so on. The days events can take up to 18 hours. After a night of celebrating, drinking, and talking to EVERYONE YOU KNOW, you would be exhausted.
Once the day is over your new hubby will probably help you out of your dress, and pull all those bobby pins out of your hair. The two of you will most likely end up crashing before anything can happen. Which is why I don't think brides should stress too much about the wedding night. The wedding day is already enough stress as it is. The wedding night shouldn't be something you're biting your nails over. Although, if you've had this image of you and your beloved getting it on in the honeymoon suite right after the reception, don't be discouraged. Three fourths of couples still end up powering through the exhaustion to make their wedding night one to remember. For all of those set on consummating the marriage as soon as possible, let me reduce your stress a little further by debunking a few more myths.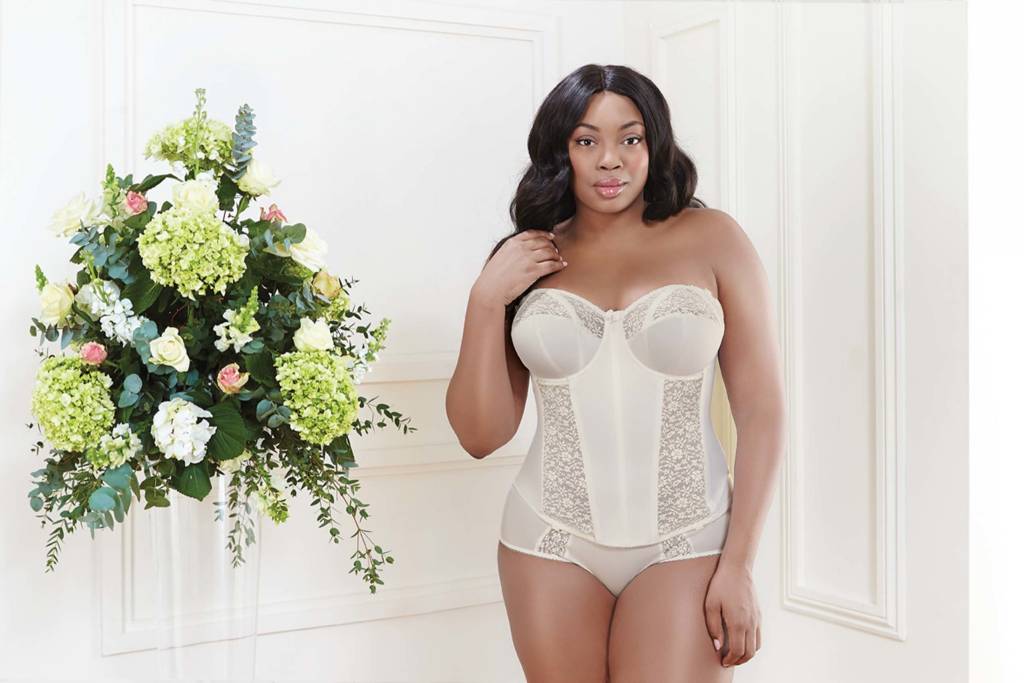 Myth: You Have To Wear Your Wedding Dress Lingerie
Wedding dress lingerie is a very important component of the dress. You should have selected lingerie for your dress after you bought it and tried it on with the dress at every dress fitting. These underthings don't have to be sexy, and it shouldn't be something you worry about. Not all strapless bras are sexy, and most dresses have built in bras now for convenience. Many brides opt for a Goddess Adelaide Longline Bra (Sizes up to L), or shape wear. Shape wear is one of God's many gifts to women, along with dry shampoo, but they really aren't that sexy. Definitely not equipped for the mind blowing standards this night traditionally has. Changing out of the dress, and whatever under things went with it, is completely normal and encouraged. This can even be a fun aspect of the night, making your partner wait for a bit while you try to undo the zipper on your dress and get out of your shape wear into something more seductive.
Myth: You Have To Wear White
You will obtain white lingerie, it will happen. Rather it's from your bestie, or gifts that you did not request at your bachelorette party. Someone, somehow, will most likely gift you white lingerie. Hopefully it will be this gorgeous Coquette Bridal Bustier (size up to 4X) that you will adore and love to show off to your  honey on the most important night of your lives. Most of the time though, its a cheap pair of panties that read "Bride" on the booty. By all means try it on, but if you hate it, don't wear it, and don't make it THE lingerie just because it says "Bride."
Honestly you can wear whatever color you want for wedding night lingerie. Is blue your favorite color? Wear blue lingerie. Purple? Wear purple lingerie, like this luxurious Coquette Plum Bustier (sizes up to 4X). White doesn't flatter every skin tone, and the last thing you should be worrying about on this night is the fact that your not in love with your lingerie. If white doesn't make you feel sexy, don't wear it. Most brides like to wear white because it's traditional as white symbolizes purity, but even this is a myth.
The color blue in England is a symbol of purity, not white. White is actually mainly associated with death, and in France white is worn when mourning royalty. The white wedding dress didn't become popular until 1840 when Queen Victoria wore a white dress on the day of her wedding. Around this time photography had just become popular so Queen Victoria's wedding photos were widely distributed. One thing that hasn't changed is brides trying to keep up with the trends. Who knows what's in better than the Queen? So white became the preferred wedding dress color. Up until this point however, wedding dresses weren't even a thing. Brides would just wear the best dress they owned. Darker colors were actually preferred because they wouldn't show accidental spills or stains. So don't let "tradition" hold you back from wearing this gorgeous Coquette Botanical Boudoir Maxi Skirt.
Myth: You Have to Wear Something New
Special occasions usually require new things. Sometimes we buy nicer clothes for events like interviews, weddings, and graduations. Chances are you don't already own a wedding dress so your going to have to get one of those. Assumptions can easily be made that since you bought new things for the wedding day, you'll need new things for the wedding night. This isn't necessarily true. If you already have a drawer full of lingerie you feel sexy in - Great! The search is over! Don't feel obligated to spend unnecessary time and energy on something if you don't have to. Instead of frilly white and blue baby dolls, maybe just pack your favorite ICollection Lace & Mesh Tunic into your honeymoon suitcase. Or your go-to date night piece that your new hubby can't resist. Just because your a newlywed doesn't mean you need brand new lingerie.
 Myth: You Have To Wear Lingerie
We've already discussed how the happiest day of your life will also be the most exhausting. After you've gotten yourself out of your dress, taken out every bobby pin, and scraped off the eyelash glue, the last thing your going to want to do is put on something uncomfortable. Maybe you have a suitcase full of pretties for the honeymoon, but on your wedding night, treat yourself to a luxurious pair of Cosabella Pajamas (sizes up to XL). Make sure you don't get so caught up in being sexy that you forget to be comfy. This is going to be a day long marathon, at the finish line treat yourself to something you can relax in.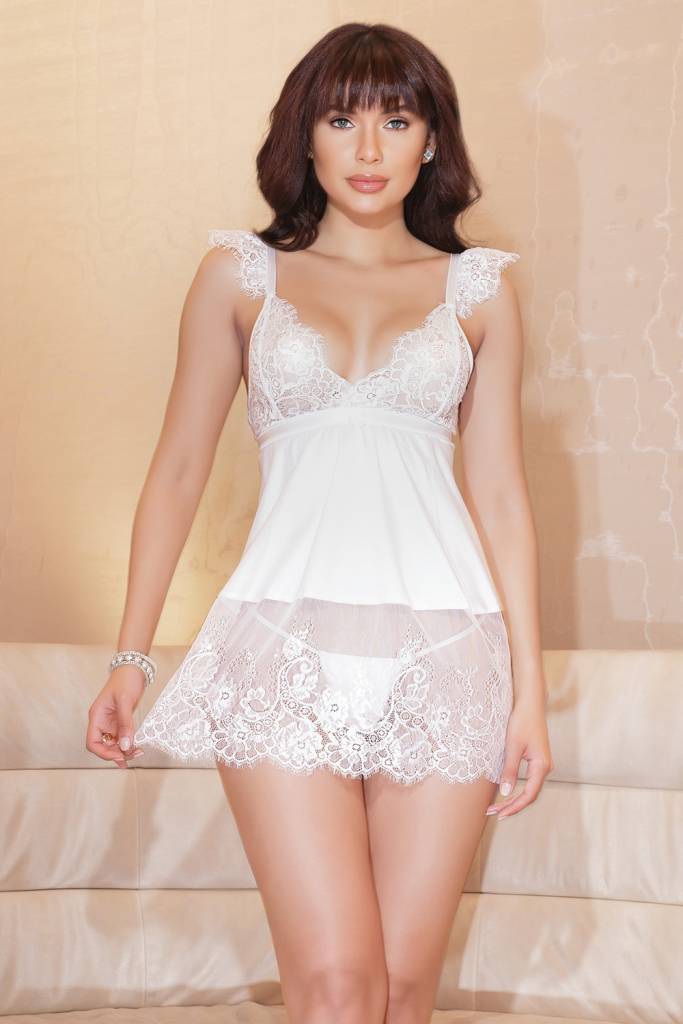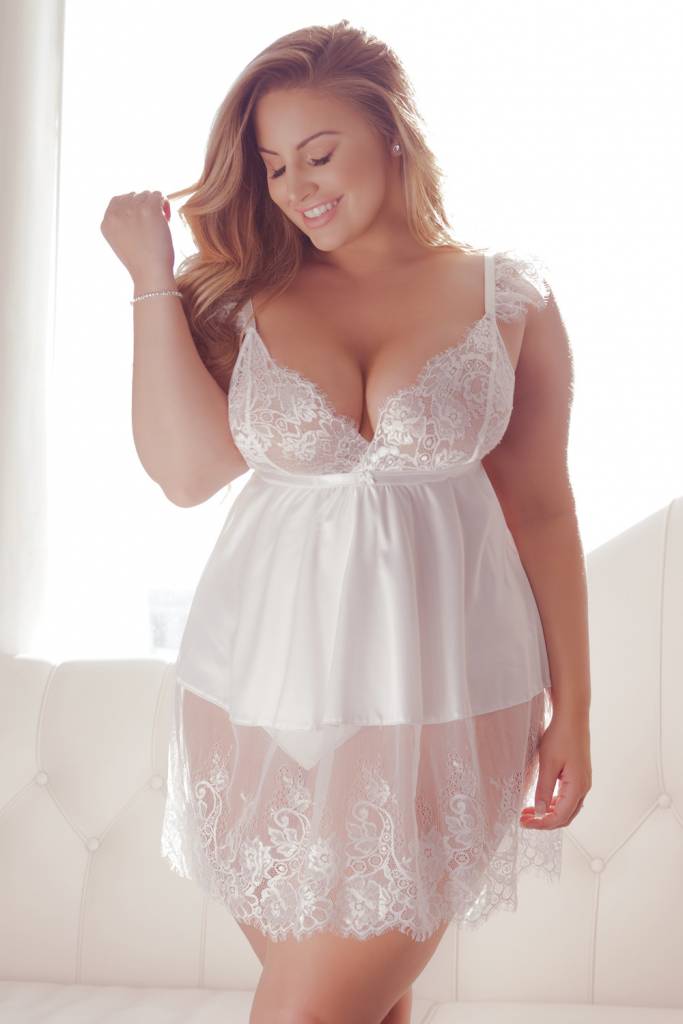 I didn't write this post to bring down brides about the harsh reality that will be your wedding night. Rather I just wanted to bring some perspective as to how ridiculous these expectations are. Your wedding night doesn't have to be this big magical thing, and it won't be just because it's your wedding night. The first time you and your partner decided consummate your marriage will be amazing because you'll be celebrating your new life together with your favorite person. It won't be amazing because you did everything right, and picked out new white wedding dress lingerie in the right size. That night will be amazing because your spending it with the person who you will happily spend the rest of your life with.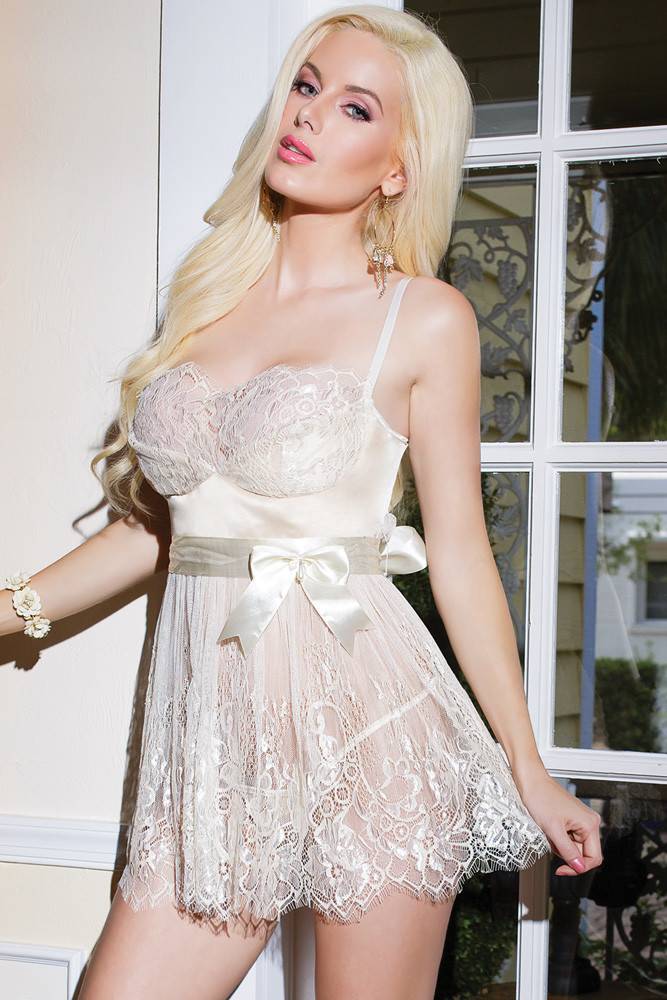 With all that being said, If you want new beautiful items for your honeymoon like this Coquette Elegance Babydoll there is absolutely nothing wrong with that. Just don't stress about it because it's not traditional or white. If you are going to buy wedding night lingerie reduce the stress by packing all of your honeymoon essentials early. Don't wait till the last minute, plan a lingerie party and let all your besties help you pick out THE lingerie. You're wedding night will be a lot more magical if it's stress free. Plan for the night early and live happily ever after!
Do you feel less stressed know that we've shed some light on these myths? 
Let us know in the comments for a chance to win a $25 gift card!
Winner drawn monthly!
FOLLOW US ON INSTAGRAM @angiedavislingerie
FOLLOW US ON SNAPCHAT @Angiedavisphoto
 ANGIE DAVIS is a lingerie boutique & boudoir studio in Conway, Arkansas. Shop our website or come into the store and let us help you find the perfect piece of lingerie, your new favorite shoes, some gorgeous jewelry or the perfect fitting bra. We carry bras up to O, bralettes up to HH, nursing bras, lingerie up to 6X & much more! We also offer bridal registry & lingerie parties!
LADIES! JOIN OUR LADIES GROUP FOR MORE INFO!
GUYS! JOIN OUR MEN'S GROUP FOR MORE INFO! 
1131 Front St. Conway, AR 72032 - 501-450-4886 - [email protected]