Valentine's Day is slowly getting closer. For some of us that means stockpiling Ben & Jerry's and renting horrible romantic comedies. For others staying at home is the last thing your going to do on February 14th. You'll be going out in your best dresses and suits. Trying to impress your husband, boyfriend, girlfriend, lover, etc. For those of you dressing to impress this Valentines Day don't let the excitement stop with your red dresses and matte lipstick. Plan on impressing with simply amazing lingerie. For those trying to make a statement this holiday let me suggest what your lingerie might say about you.
A Woman of Class
Chances are your dress comes just above your knees but no higher. Your bra straps never show in public and you absolutely love to make small fashion statements with colorful shoes and small accessories. You like to be comfortable and cozy. The classy lady tends to be well put together with slight consideration as to what her partner would like. Our Coquette Red Lace Babydoll Set is definitely for you. Sizes up to 4X! This classy piece will go great with your colorful shoes and accessories, and stay hidden under the glamorous dress you decided to wear for your Valentine's Day dinner. 
The Sophisticated Fashionista
Your classy, but in a more dramatic way. Your clothes, hair, accessories and shoes all have their own wow factor, and your lingerie is no exception. The Sophisticated Fashionista likes to wow people including her special someone, but with less consideration as to what the viewer would like. She is more concerned with how smoking hot she will feel. Nothing says sexy and sophisticated like a well polished look. Try our Coquette Red Diva Bustier with some thigh highs to polish to look. Sizes up to 4X! This outfit will definitely wow your special someone, and more importantly, you!
The Flirt
You dress to impress!!! You love anything with playful colors, and patterns. It doesn't have to match as long as it's comfortable for you. You usually buy what makes you feel fabulous. You should try on our Maple Red Fishnet Bodysuit! Sizes up to L! This bodysuit has a high neck and a flirty heart shape panel in the front. This red lingerie features a soft, playful fishnet, and a cute floral pattern.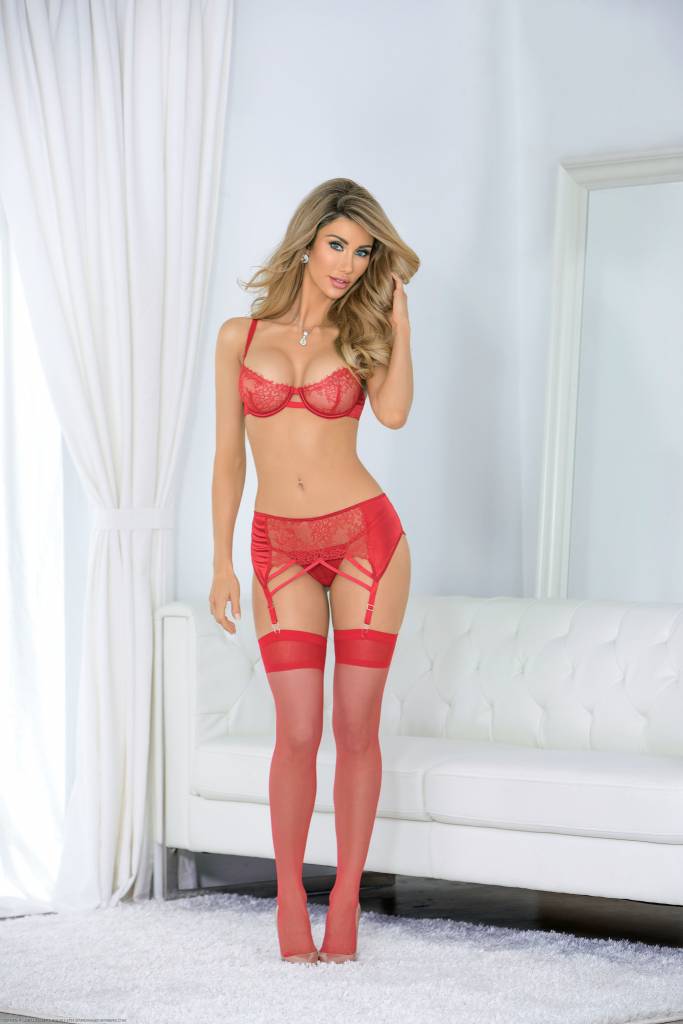 Unapologeticlly Seductive
You don't care what anyone else thinks of your style or your lingerie. You have been patiently waiting for Valentine's Day so that you can go out and find a brand new style just for you and your bedroom. You love anything black, red, lace or strappy, and are a fan of thigh highs and heels. You will LOVE our Escante Bra & Garter Set! Sizes up to L! This set comes with a soft lace bra, and matching garter. Be sure to get some thigh highs to finish the look!
The Girly Girl
You love Valentine's Day, laughter and love! Anything and everything pink is your favorite. If it has lace, chances are you already like it. All girly girls will love our Maple Pink Petals Babydoll! Sizes up to XL! This set includes a rose pattern babydoll featuring soft sheer cups with scalloped trim. This set also includes a matching thong!
The Comfortable Lady
You and your man would rather die than face the Valentine's Day crowd. All those people dressed in red and pink laughing in crowded restaurants. No thank you. You'll most likely rent your favorite movie after ordering Chinese food or pizza. Spend the day how you want, comfortable and cozy in our Amourette Spotlight Flowy Chemise. Sizes up to XL! This comfy chemise will make you feel super comfortable while also looking super cute! 
No matter what you'll be doing this Valentine's Day or with who, we have the right lingerie for you! Click any of the images to shop online or view our entire lingerie selection here to find your new favorite look! 
Which of our Valentine's Day Statement outfits was your favorite? 
Let us know in the comments for a chance to win a $25 Gift Card!
Winner drawn monthly. 
FOLLOW US ON INSTAGRAM @angiedavislingerie
FOLLOW US ON SNAPCHAT @Angiedavisphoto
 ANGIE DAVIS is a lingerie boutique & boudoir studio in Conway, Arkansas. Shop our website or come into the store and let us help you find the perfect piece of lingerie, your new favorite shoes, some gorgeous jewelry or the perfect fitting bra. We carry bras up to O, bralettes up to HH, nursing bras, lingerie up to 6X & much more! We also offer bridal registry & lingerie parties!
LADIES! JOIN OUR LADIES GROUP FOR MORE INFO!
GUYS! JOIN OUR MEN'S GROUP FOR MORE INFO! 
1131 Front St. Conway, AR 72032 - 501-450-4886 - [email protected]