One of my favorite types of lingerie that we carry are our corsets! Corsets are so fun to wear and turn any figure instantly into the almighty hourglass figure. I absolutely love this lingerie and I'm excited to show you all of few new additions to our corset collection. Some of you may have seen a few of them already in a couple of the boudoir blogs, for instance, Mrs. L's session. Go ahead and click over to her session and check out how sexy this corset looks on her!
In one of our earlier blogs I went over the different types of lingerie we sell and gave a little information about the history of corsets. In this post we'll go a little more in depth by letting you know how awesome corsets are and how you can tell if your corset fits correctly!
WHAT IS A CORSET?
Today, corsets are a very fashionable type of snug fitting lingerie, stretching from the bust line to the hips. Typically corsets are used to give women some AH-MAZING curves. Corsets give every woman the desired hourglass figure. You could have this figure too, with our Green Lace Corset, sizes S-6X. Corsets have been around for hundreds of years. In the 1800's steel boned corsets were used to train waists. Women would literally reshape the structure of their ribs and organs for a desired smaller waist. Women still do this today typically to retrain the waist after having a child or losing weight to get the waist back to it's original shape. Although today's women may not go the same extent of literally reshaping their organs, they still achieve the desired result of a smaller waist rather they wear it every day or every once-in-a-while.
WHAT ARE THE BENEFITS OF WEARING A CORSET?
There are actually quite a few benefits associated with wearing this type of lingerie. Since corsets hug your tummy area, it tends to help with problems like overeating. You'll feel fuller faster if there is restriction around the stomach. This has helped many women with eating disorders by helping them feel that their eating habits are under control. Additionally, this 'hugging' sensation even helps some women (and even men) with anxiety issues, PTSD, and even ADHD. Women find that the corset helps bring stability. The slight pressure and support help with security issues and even panic attacks, by giving the feeling of a type of 'armor.'

The corset can also help with posture issues and reduce back pain caused by scoliosis, accidents, or simply sitting at a desk all day. Not to mention the corset does an awesome job at lifting and supporting the breasts. So not only do you achieve the hourglass figure, your girls look better than they do in a push-up bra. Unlike the push-up bra though, you don't have to worry about it falling down all day! As an added bonus our Sequin Corset could benefit you by making you look stunning and sparkly! Available in sizes S-L.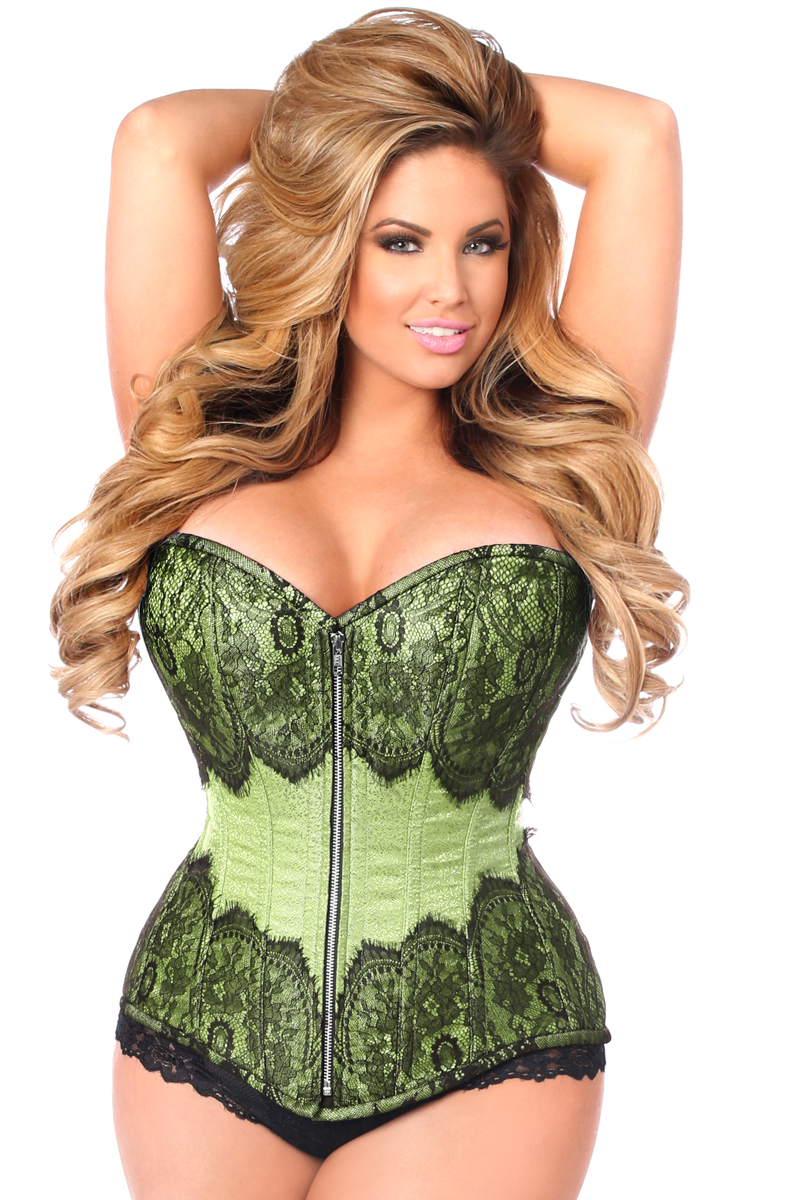 ARE THERE ANY DOWNSIDES TO WEARING A CORSET?
As long as your corset fits correctly you should never have any problems. If you experience short breaths, downward pressure on your pelvis, or if your movements are extremely restricted, your corset is too tight. You will need to go up a size or simply loosen it. Another downside could be that if you are wearing a corset too often, your abdomen and core muscles could start to rely on the support and start to weaken. To prevent this simply add in a few extra crunches to your daily workout to ensure you keep those muscles strong, or simply wear the corset less often. However, I would want to wear our Mint Brocade Corset everyday too! Sizes S-3X!
What do you think is great about corsets?
Let us know in the comments for a chance to win a $25 gift card!
ANGIE DAVIS is a lingerie boutique & boudoir studio in Conway, Arkansas. Shop our website or come into the store and let us help you find the perfect piece of lingerie, your new favorite shoes, some gorgeous jewelry or the perfect fitting bra. We also offer bridal registry & lingerie parties!
1131 Front St. Conway, AR 72032 - 501-450-4886 - [email protected]ANGIEDAVISBoudoir.com