Of Course We Carry Plus Size Lingerie!
Women are beautiful. Every size. They are beautiful. Period. Our soft skin, beautiful curves and the overall mystery of our bodies makes us all stunning.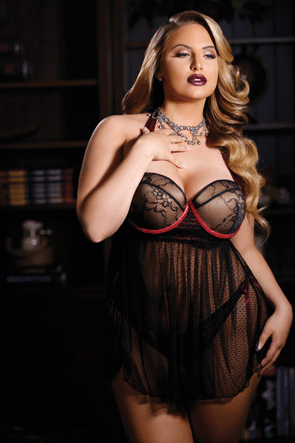 This beautiful piece offers a lot of cup support and a tummy hiding skirt. The panties tie on the side allowing you to control how tight they are.
I cannot tell you how many times a day we get phone calls, emails and social media messages asking if we carry plus size lingerie. Absolutely we do! Why wouldn't we?! All women are beautiful and deserve to feel beautiful! As a boudoir photographer I love curves on women. Nothing makes more beautiful and interesting images the a woman with a curvy body. The more curves and filling I have to work with the easier my job is in the studio!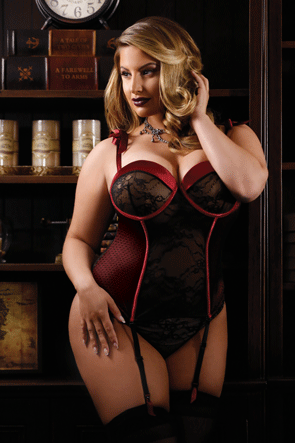 This beautiful piece also offers lots of support in the cups. The bustier is very high quality so it is going to do a great job of smoothing the tummy area.
I hear women all the time complain about their hips, and I think it's terrible. Hips are beautiful! Men don't have hips and they are nowhere near as magical as we are (sorry guys). Why? Because we have curves and hips! We have a much more interesting and beautiful physique than men. And guess what else! Men love our curves and hips! It's sexy! Embrace them and love them!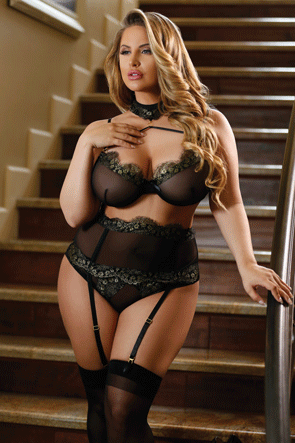 Not only is this piece beautiful and intricate with it's gold lined lace, but the underwire offers support while the garter offers tummy control and also hides the tummy.
Back to the main reason for this blog post, yes, we carry lingerie for you lovely plus size ladies. Most of the brands I have brought into the store carry plus sizes as well, and we stock them along with our smaller sizes. I am not a fan of splitting a store into smaller sizes on one side and plus size on the other. We put all our sizes together. When you come into the store we don't want you to have to dig for your size. We do it for you. We want you in the dressing room trying on all our pretties. We bring your outfits and bras to you, and we will keep bringing them to you until you are tired of trying things on, or we run out of your size.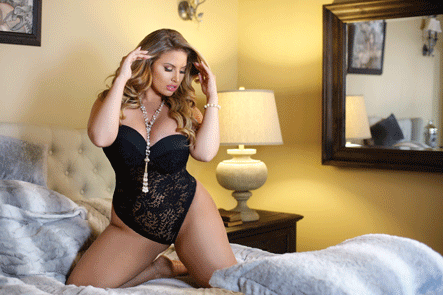 This piece is a top seller in plus size. The cups offer lots of support, and the stretchy, high quality lace helps with tummy control.
We want nothing more than for you to have a fun shopping experience with us, and when you leave you are happy and you just had a blast looking and feeling like a million dollars in our beautiful boutique. If you can't make it into our boutique we have a website with almost everything we carry on it. We offer free exchanges if it doesn't fit. Plus, you are more than welcome to call or email us and we can help you make your decision on what will look best on you by your body type and what you are looking for. We know how everything in our store fits and what pieces are best for support, tummy coverage, etc so we can certainly make purchasing lingerie a much easier process for you.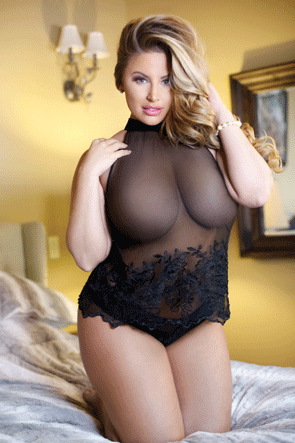 This piece is an absolute favorite for woman of all sizes and is also available in ivory. Completely see through yet the gorgeous lace embroidery hides the tummy area. So sexy!
Thank you so much for reading my blog post. If you have any questions about these pieces or anything else we carry please feel free to reach out to us. Click on any of the images above for pricing and ordering info. We hope to see you in the store soon!
Ladies, make sure to join on private, ladies only Facebook group by clicking HERE.

ANGIE DAVIS is a lingerie boutique & boudoir studio in Conway, Arkansas. Shop our website or come into the store and let us help you find the perfect piece of lingerie, your new favorite shoes, some gorgeous jewelry or the perfect fitting bra. We also offer bridal registry & lingerie parties!

1131 Front St. Conway, AR 72032 - 501-450-4886 - [email protected]